July 18, 2014
Retinal Scans an Effective, Cheaper Way to Predict Alzheimer's
the Psychiatry Advisor take:
Amyloid plaque in the brain has long been associated with Alzheimer's disease. Now, measuring that plaque could be easier following new research that suggests it could be estimated through retinal or ocular lens imaging technique, with a price tag far below that of PET scans currently used.
A study led by Shaun Frost, MSc, BSc, with Australia's Commonwealth Scientific and Industrial Research Organisation, found that measurements of amyloid made with retinal imaging was the same the results seen with a brain PET scan in 40 participants.
Paul D. Hartung, MS, of Cognoptix in Acton, Mass., which is developing technology to allow the amyloid retinal scanning, said that a type of fluorescence scan that examines amyloid in the lens, was able to tell the difference between diagnosed "probable" Alzheimer's disease from those in the control group.
"In the face of the growing worldwide Alzheimer's disease epidemic, there is a pressing need for simple, less invasive diagnostic tests that will identify the risk of Alzheimer's much earlier in the disease process," Heather Snyder, PhD, director of medical and scientific operations for the Alzheimer's Association International Conference, where the studies were presented, said in a statement.
Eventually, the retinal scans could be used during routine eye exams.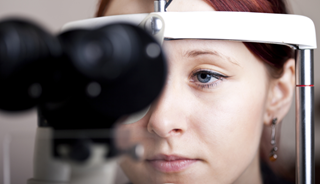 Retinal Scans an Effective, Cheaper Way to Predict Alzheimer's
Amyloid plaque burden in the brain may be estimated indirectly via retinal or ocular lens imaging techniques, which would be easier than the expensive PET scans now available, researchers said this week.
In one study, led by Shaun Frost, MSc, BSc, of the Australian research organization CSIRO, retinal amyloid measured by a fluorescence-based scan correlated with results of brain PET scans in 40 volunteers using the Pittsburgh Compound B (PiB) amyloid tracer with an R coefficient of 0.762 (P<0.0001).
Sign Up for Free e-newsletters