July 02, 2015
Researchers To Examine Why Alzheimer's Is More Prevalent in Women
the Psychiatry Advisor take:
Alzheimer's disease is a condition that disproportionately impacts women, given that two-thirds of Alzheimer's patients in the United States are female. While researchers have tended to believe the reason for this is that women have a longer life expectancy than men, the Alzheimer's Association has begun to look into why women are at a greater risk of developing Alzheimer's than men.
In May, the association had 15 scientists meet and discuss what is already known about women's higher risk for Alzheimer's. And later this summer, the association will fund research that will focus on the disease in women, Alzheimer's Association Chief Science Officer Maria Carrillo, PhD, said to the Associated Press.
"There are enough biological questions pointing to increased risk in women that we need to delve into that and find out why," Carrillo told the news service. "There is a lot that is not understood and not known. It's time we did something about it."
An association report recently estimated that by the time they reach 65 years old, 1 out of 6 women are at risk of developing Alzheimer's in their lifetime, compared with a 1 in 11 chance in men.
Genetics might have something to do with the difference in risk between the sexes. Last year, Michael Greicius, MD, MPH, medical director of the Stanford Center for Memory Disorders in California, and colleagues examined the records of more than 8,000 people — most them older than 60 years old — to look for a genetic variant called ApoE4, which is known to increase the risk for Alzheimer's.
The researchers, who reported their study results in the journal Annals of Neurology in April 2014, found that women who carried the ApoE4 variant were nearly twice as likely of eventually developing mild cognitive impairment or Alzheimer's as women who lacked the variant. However, men with the variant only had a marginally increased risk.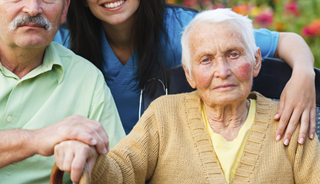 The Alzheimer's Association will fund research into why women are much more likely to develop Alzheimer's than men.
Nearly two-thirds of Americans with Alzheimer's disease are women, and now some scientists are questioning the long-held assumption that it's just because they tend to live longer than men.
What else may put women at extra risk? Could it be genetics? Biological differences in how women age? Maybe even lifestyle factors? Finding out might affect treatments or preventive care.
One worrisome hint is that research shows a notorious Alzheimer's-related gene has a bigger impact on women than men.
A recent Alzheimer's Association report estimates that at age 65, women have about a 1 in 6 chance of developing Alzheimer's during the rest of their lives, compared with a 1 in 11 chance for men.
Sign Up for Free e-newsletters