November 03, 2014
Research Challenges Beta-Amyloid As Culprit Behind Alzheimer's
This article originally appeared
here.
the Psychiatry Advisor take:
New research is challenging the idea that the buildup of damaging protein in the brain, known as beta-amyloid, leads to Alzheimer's disease and dementia. Rather, the new theory cites a different protein, tau, as the culprit responsible for the neurodegeneration.
Charbel E-H Moussa, PhD, a professor of neuroscience at Georgetown University Medical Center in Washington, D.C., and colleagues found in mice models that when tau malfunctions — due to genetic flaws or normal aging — it can lead to the accumulation of toxins in the brain. The normal function of tau is to allow neurons to get rid of such toxins in cells.
Moussa says the theory also helps to explain why many older people who have beta-amyloid build up never get dementia.
The research, which was published in the journal Molecular Neurodegeneration, also indicates that the drug nilotinib (Tasigna), used to treat leukemia and lymphomas, may also help to avoid neurodegeneration if tau fails to work properly. The study showed that the drug can help neurons clean out toxic "garbage."
Moussa told FoxNews.com that he will begin a study within weeks of nilotinib in people with lewy body dementia, which is characterized by having tau modifications in the brain. The dose given, however, will be far less than what is given in cancer patients.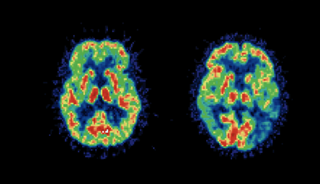 Research Challenges Beta-Amyloid As Culprit Behind Alzheimer's
Scientists found toxic protein thought to cause dementia is not responsible. A different protein, called tau, leads to destruction of vital brain connections. Tau kills brain's neurons if it malfunctions due to aging or faulty genes. But cancer drug nilotinib can fight this and help clear the brain's 'garbage' A cancer drug could help ­protect brain cells from the effects of ­Alzheimer's disease, new research has found.
Researchers, from the Georgetown University Medical Center in Washington found it is the tau protein that kills neurons in the brain when it malfunctions.