October 06, 2014
Research Behind Nobel Prize in Medicine Has Alzheimer's Impact
the Psychiatry Advisor take:
The research conducted by the recipients of the 2014 Nobel Prize in Physiology or Medicine on an "inner GPS" in the brain has provided crucial information on how diseases such as Alzheimer's disease and dementia impact the brain.
The prize, announced today in Stockholm, Sweden, was awarded to three people: John O'Keefe, PhD, of University College London, United Kingdom, and the husband-and-wife team of May-Britt Moser, PhD and Edvard I. Moser, PhD, both of the Norwegian University of Science and Technology in Trondheim.
The "inner GPS," the first part of which was discovered by O'Keefe in 1971, makes it possible to orient ourselves in space, thus demonstrating a cellular basis for higher cognitive function. And in 2005, the Mosers identified a type of nerve cell, called "grid cells," that generate a coordinate system and allow for precise positioning and pathfinding.
In patients who suffer from Alzheimer´s disease, the hippocampus and entorhinal cortex are frequently affected at an early stage, leading them unable to recognize their environment. But the research on the brain´s positioning system could provide a better understanding of the mechanism behind memory loss that affects those with Alzheimer's.
Half of the approximately $1.1 million in prize money will go to O'Keefe, while the Mosers will share the other half.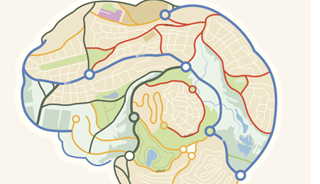 Research Behind Nobel Prize in Medicine Has Alzheimer's Impact
"The discoveries ... have solved a problem that has occupied philosophers and scientists for centuries," the Nobel Assembly at Sweden's Karolinska Institute said in a statement when awarding the prize of 8 million Swedish crowns ($1.1 million). "How does the brain create a map of the space surrounding us and how can we navigate our way through a complex environment?"
Knowledge about the brain's positioning system can also help understanding of what causes loss of spatial awareness in stroke patients or those with devastating brain diseases like dementia, of which Alzheimer's is the most common form.
Sign Up for Free e-newsletters
Check out what's trending