December 04, 2014
Promising Alzheimer's Drug Moves Into Late-Stage Development
the Psychiatry Advisor take:
An Alzheimer's disease drug from Biogen Idec will be moved into a late-stage trial after a small Phase I trial showed that the drug, BIIB037, reduced levels of beta-amyloid plaque in the brain and patients showed significant cognitive improvement while on the treatment.
In a presentation at a financial conference in Boston this week, Doug Williams, Biogen's executive vice president of research and development, said that BIIB037 improved cognition in about 200 patients with early signs of Alzheimer's 54 weeks after starting treatment, Bloomberg reported.
BIIB037 is not the first Alzheimer's drug that targets the beta-amyloid plaque considered a hallmark of the disease. Eli Lilly is developing solanezumab and was working on bapineuzumab, with partners Pfizer, Johnson & Johnson, and Elan. Both of those biologic-based medications failed to demonstrate efficacy in late-stage trials. Bapinezumab has been abandoned, while Eli Lilly is testing solanezumab in early-stage patients.
Other pharmaceutical companies are also working on Alzheimer's drugs. Gantenerumab, under development by Roche, is in a Phase III trial. And Merck's MK-8931, which is also in late-stage development, also targets beta-amyloid, but instead of removing it from the brain, it works by blocking production of the protein itself.
Given that there is no drug approved to treat Alzheimer's disease at the source, the market for any drug that can is lucrative. Mark Schoenebaum, an analyst at Evercorse ISI, estimates the market for these kinds of Alzheimer's drugs could hit $30 billion globally, according to Bloomberg.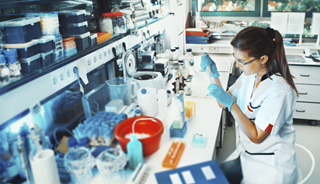 Promising Alzheimer's Drug Moves Into Late-Stage Development
The latest promising Alzheimer's disease drug trial is causing a burst of excitement for Biogen Idec Inc. investors. It may be too early to celebrate.
Other Alzheimer's drugs that later failed in larger, more comprehensive effectiveness tests showed the same sort of initial promise as Biogen's, say neurologists. The biotechnology company said this week that it would move the drug, BIIB037, into a final-stage trial based on positive Phase 1 data.
The trial of fewer than 200 patients showed the drug removed a protein fragment that causes plaques in the brain that are a hallmark of Alzheimer's. Patients also did better on cognitive tests, Doug Williams, Biogen's head of research and development, said at a Deutsche Bank conference this week.
Sign Up for Free e-newsletters