October 02, 2014
Possible Link Between Neuroticism and Alzheimer's in Women
the Psychiatry Advisor take:
Women in middle age who are neurotic — exhibiting anxiety, jealousy or moodiness — are at an increased risk of developing Alzheimer's disease, according to a new study.
Lena Johannsson, PhD, of the University of Gothenburg, Sweden and colleagues, based their conclusion on a population-based sample of 800 women, aged 38 to 54 years, who were first examined in 1968. Follow-ups were conducted in 1974, 1980, 1992, 2000, and 2005.
Neuroticism and extraversion were assessed using the Eysenck Personality Inventory at baseline. Distress was measured according to a standardized question at each study wave. Dementia was diagnosed according to DSM-III-R criteria.
During the 38-year follow-up period, 19% of women developed dementia.
Women who scored highest on neuroticism tests were twice as likely to develop Alzheimer's disease (AD) than those who had lower neuroticism scores, the researchers reported in Neurology. However, the relationship was stronger in women who had gone through long stressful periods.
"Our study suggests that midlife neuroticism is associated with increased risk of AD dementia, and that distress mediates this association," the researchers concluded. "The results have clinical implications because a group of women at risk of AD dementia is identified."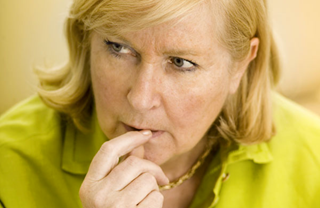 Possible Link Between Neuroticism and Alzheimer's in Women
A new study published in the journal Neurology claims a woman's risk of
Alzheimer's disease
may be higher if she is anxious, jealous or moody in middle-age. Researchers say women who are neurotic during middle-age — defined as being anxious, jealous or moody — may be at higher risk of Alzheimer's.
Sign Up for Free e-newsletters