June 11, 2015
Physical and Mental Activities Don't Prevent Beta-Amyloid in Brain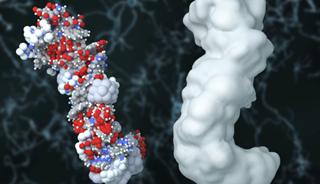 Mental and physicial activities don't appear to stop the formation of beta-amyloid protein, a sign of Alzheimer's, in the brain.
HealthDay News — Physical and mental activity don't appear to prevent the brain from developing the telltale beta-amyloid deposits that are a hallmark of Alzheimer's disease, a new study suggests.
Physical activities — such as bike riding, dancing, walking and gardening — and mentally stimulating activities — such as crossword puzzles and reading — have been shown in other research to reduce the risk of developing Alzheimer's disease, according to the study authors.
For this study, published in the journal Neurology, Keith Johnson, MD, co-director of the Neuroimaging Core at the Massachusetts Alzheimer's Disease Research Center in Charlestown, and his colleagues collected data on the current and lifetime physical and mental activity of almost 200 people who didn't have any memory or thinking problems. Their average age was 74.
People in the study had PET and MRI scans so researchers could gauge the amount of beta-amyloid deposits in their brains. The scans also measured the brain's metabolism and whether the part of the brain called the hippocampus was shrinking, another sign of Alzheimer's disease. In addition, participants took tests to evaluate their thinking and mental skills.
"We found that histories of mental activity were related to overall intelligence and generally to performance on tests of mental performance," Johnson said. But, these activities weren't related to the presence of Alzheimer's disease markers, such as beta-amyloid deposits in the brain, he added.
In fact, although people who kept their brains busy with stimulating mental activities had higher IQs and better mental performance compared with those who did not often take part in such activities, researchers found no relationship between mental or physical activity and signs of Alzheimer's disease in the brain.
Despite the current results, Johnson said that a lifetime of physical and mental activity may help keep the brain sharper with age. He also stressed that these findings should not be taken as a reason to not keep mentally and physically active, since other studies have shown these can benefit the brain.
Reference
Johnson KA, et al. Cognitive activity relates to cognitive performance but not to Alzheimer disease biomarkers. Neurology. 2015; doi: 10.1212/WNL.0000000000001704.