May 12, 2015
Neuropsychiatric Symptoms May Predict Alzheimer's Progression
the Psychiatry Advisor take:
Mild Alzheimer's disease patients who also have neuropsychiatric symptoms, such as psychosis and agitation/aggression, are likely to progress to more severe Alzheimer's or dementia even sooner than others without the symptoms.
Matthew E. Peters, MD, a psychiatrist at Johns Hopkins University in Baltimore, and colleagues analyzed data from a longitudinal study involving more than 5,000 people with mild Alzheimer's known as the Cache County Dementia Progression Study. They were recruited in 1995 and then screened at 3-to-5 year periods.
Twenty percent of the individuals developed dementia during the study and by 2010, 273 died. Neuropsychiatric symptoms were found in just over half of the patients.
Through a regression analysis, it was determined that psychosis, agitation/aggression and any one clinically significant neuropsychiatric symptom was associated with more rapid progression to severe dementia, the researchers reported in the American Journal of Psychiatry.
In addition, psychosis, affective symptoms, agitation/aggression, mildly symptomatic neuropsychiatric symptoms, and clinically significant neuropsychiatric symptoms were associated with earlier death.
"The treatment of specific neuropsychiatric symptoms in mild Alzheimer's dementia should be examined for its potential to delay time to severe dementia or death," the researchers concluded.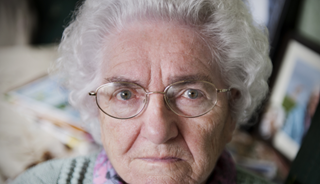 Neuropsychiatric Symptoms May Predict Alzheimer's Progression
A range of neuropsychiatric symptoms are associated with earlier progression to severe Alzheimer's disease (AD) and earlier death, new research shows.
Using data from a landmark longitudinal study, investigators at Johns Hopkins University, in Baltimore, Maryland, found that psychotic and affective symptoms had a differential impact on the speed of progression to severe AD and death.
Nevertheless, the presence of at least one clinically significant neuropsychiatric symptom predicted progression to both outcomes.
To examine the link between clinically significant neuropsychiatric symptoms in patients with mild AD and progression to severe dementia or death, the investigators analyzed data from the Cache County Dementia Progression Study, in which 5092 residents aged 65 years and older were recruited in 1995 and then screened at 3- to 5-year intervals.
Sign Up for Free e-newsletters