February 26, 2015
Neuropsychiatric Symptoms Increase Dementia Risk
the Psychiatry Advisor take:
People who have mild cognitive impairment and neuropsychiatric symptoms have an increased risk of developing dementia, according to a study published in the American Journal of Psychiatry in Advance.
An estimated one-third to three-quarters of people with mild cognitive impairment have neuropsychiatric symptoms. The most common symptoms are depression, anxiety, apathy, and irritability.
To determine what affected the risk of developing dementia in mild cognitive impairment, the researchers looked through electronic databases and longitudinal studies. In 76 epidemiologic and clinical studies, the researchers looked for modifiable risk factors that could potentially decrease the risk of dementia.
For people with amnestic mild cognitive impairment, diabetes and prediabetes predicted the onset of Alzheimer's disease or dementia. For people with any-type or nonamnestic mild cognitive impairment, diabetes and prediabetes signaled an increased risk of all-cause dementia.
The researchers found that neuropsychiatric symptoms indicated an increased risk of all-cause dementia for people with any type of mild cognitive impairment.
"Neuropsychiatric symptoms may be etiologic for dementia, for example through neuroendocrine axis activation, or they may interact synergistically with a biological factor, such as genetic predisposition," the researchers said.
Based on these results, the researchers believe that treating neuropsychiatric symptoms could delay the onset of dementia.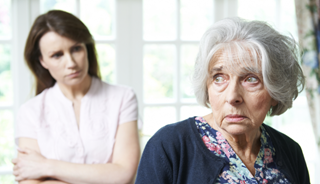 Neuropsychiatric Symptoms Increase Dementia Risk
Neuropsychiatric symptoms in the presence of mild cognitive impairment (MCI), including
depression
, appear to significantly increase the risk of conversion to dementia —either amnestic or
Alzheimer's type-dementia
— according to a
study
released today by
AJP in Advance.
Diabetes and prediabetes increased risk of conversion from amnestic MCI to Alzheimer's dementia and from any-type or nonamnestic MCI to all-cause dementia. But the researchers also found that the presence of neuropsychiatric symptoms predicted conversion to all-cause dementia, and depressive symptoms predicted conversion from any-type MCI to all-cause dementia in epidemiological but not clinical studies.
Sign Up for Free e-newsletters