December 08, 2014
Marijuana May Fight Alzheimer's Disease
the Psychiatry Advisor take:
A new way to treat Alzheimer's disease may come from an unexpected source: A marijuana joint.
Chuanhai Cao, PhD, of the University of South Florida in Tampa, and colleagues set out to investigate whether THC, the active ingredient in marijuana, has therapeutic properties in treating Alzheimer's. They inserted THC into Alzheimer's disease cells and examined them for the presence of beta-amyloid protein at 6, 24, and 48 hours after THC treatment. The protein is thought to contribute to the disease.
THC was found to lower beta-amyloid levels in a dose-dependent manner, the researchers reported in the Journal of Alzheimer's Disease. They added that THC "directly interacts" with the protein, "thereby inhibiting aggression." In addition, there was little toxicity associated with THC, and it helped to enhance the cell's mitochondria, which provides energy.
"THC is known to be a potent antioxidant with neuroprotective properties, but this is the first report that the compound directly affects Alzheimer's pathology by decreasing amyloid beta levels, inhibiting its aggregation, and enhancing mitochondrial function," Cao said in a statement. "Decreased levels of amyloid beta means less aggregation, which may protect against the progression of Alzheimer's disease.
"Since THC is a natural and relatively safe amyloid inhibitor, THC or its analogs may help us develop an effective treatment in the future," he added.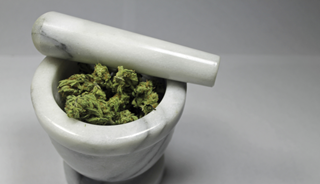 Marijuana May Fight Alzheimer's Disease
Relief for the millions of seniors who suffer from Alzheimer's disease may come in form of a joint.
A new study finds marijuana is effective in the treatment and prevention of Alzheimer's disease and other forms of dementia. The research, published in the Journal of Alzheimer's Disease, says the "THC, the main active ingredient in marijuana, could be a potential therapeutic treatment option for Alzheimer's disease through multiple functions and pathways."
More than 5 million Americans have Alzheimer's. One in 3 seniors will die from the disease or some other dementia.
Sign Up for Free e-newsletters
Check out what's trending