January 12, 2015
Insulin Nasal Spray Eyed As Alzheimer's Treatment
the Psychiatry Advisor take:
Insulin nasal sprays may also help patients with Alzheimer's disease and other forms of cognitive impairment.
Suzanne Craft, PhD, of Wake Forest Baptist Medical Center, Winston-Salem, North Carolina, and colleagues enrolled 60 adults diagnosed with amnesic mild cognitive impairment (MCI) or mild to moderate Alzheimer's dementia. Patients received either nasally-administered 40 international unit (IU) doses of insulin detemir for 21 days, 20 IUs or a placebo.
Patients who received 40 IUs of the nasal insulin showed "significant improvement" in short-term ability to remember verbal and visual information compared with those who received the lower dose or a placebo, the researchers reported in the Journal of Alzheimer's disease.
While prior studies showed the promise of nasally-administered insulin for adults with cognitive impairment, those trials used "regular" insulin. Insulin detemir is considered a longer lasting form of insulin.
"The study provides preliminary evidence that insulin detemir can provide effective treatment for people diagnosed with mild cognitive impairment and Alzheimer's-related dementia similar to our previous work with regular insulin," Craft said in a statement. "We are also especially encouraged that we were able to improve memory for adults with MCI who have the APOE-e4 gene, as these patients are notoriously resistant to other therapies and interventions."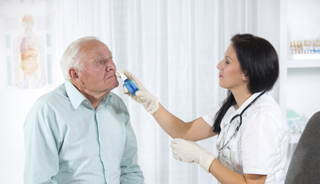 Insulin Nasal Spray Eyed As Alzheimer's Treatment
Every 67 seconds, someone in the U.S. develops Alzheimer's disease. More than 5 million Americans are living with the condition and it is responsible for around half a million deaths each year. But in a new study, researchers from the Wake Forest Baptist Medical Center in Winston-Salem, NC, reveal they may have found a promising new treatment for the disease - in the form of an insulin nasal spray.
The researchers, led by Suzanne Craft, PhD, professor of gerontology and geriatric medicine at Wake Forest, found the spray may also be effective for patients with mild cognitive impairment (MCI), which is estimated to affect around 10-20% of people over the age of 65.
Sign Up for Free e-newsletters
Check out what's trending