November 09, 2014
Injection Could Potentially Stop Alzheimer's In the Brain
the Psychiatry Advisor take:
A potential breakthrough in the way Alzheimer's disease is treated may be possible after scientists found a way to get medication directly into the brain.
Y. Joy Yu, PhD, a scientist with biotech company Genentech Inc., and colleagues wanted to find a way to have therapeutic antibodies cross the blood-brain barrier. That barrier, a vast network of blood vessels, serve to block nearly all substances, except for vital nutrients, from entering the brain.
Getting medication into the brain directly to treat neurological conditions has eluded researchers for some time. Current Alzheimer's medications treat symptoms of the disease. No treatments are able to get into the brain itself and target the root of the problem.
Using monkeys, the researchers were able to figure out a way to attach an antibody to a type of protein known as transferrin that is able to permeate the blood-brain barrier. And those antibodies were able to stop the build-up of beta-amyloid, a type of toxic plaque thought to contribute to Alzheimer's that is found in the brains of many people with the disease, they reported in the journal Science Translational Medicine.
"If this technique proves successful in humans, patients could receive weekly subcutaneous or monthly intravenous injections to keep neurological diseases at bay," Yu said, according to The Telegraph.
The researchers found that intravenous injections of the antibodies lasted for a month, while given subcutaneously, the injections lasted for a week. They plan on conducting human trials next.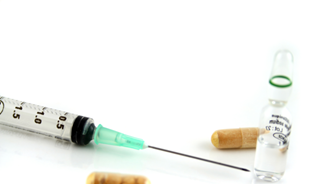 Injection Could Potentially Stop Alzheimer's In the Brain
A weekly injection which could prevent Alzheimer's disease may be possible after scientists discovered how to get drugs into brain. Treating neurological disorders like dementia has always proved difficult because the brain has a network of blood vessels – known as the blood-brain barrier - which stop all but vital nutrients getting inside.
However for the first time, scientists have discovered how to attach antibodies to a special protein called 'transferrin,' which exists in the body to help transport materials through the blood-brain barrier.
Once inside the brain, the antibodies block the build-up of toxic amyloid beta plaques which stop the neurons from firing and cause Alzheimer's disease.
Sign Up for Free e-newsletters
Check out what's trending