November 11, 2015
Sense of Humor Change May Be An Early Indicator of Dementia
the Psychiatry Advisor take:
Changes in sense of humor, especially humor that becomes darker or inappropriate with age, may be an indicator of behavioral variant frontotemporal dementia as many as nine or more years before onset of the disease, according to research published in the Journal of Alzheimer's Disease. Researchers also found that changes in humor may be an early sign of Alzheimer's.
To explore humor changes in dementia, Camilla Clark, MRCP, Dementia Research Centre at the University College London Institute of Neurology, England, and colleagues asked friends and relatives of 48 participants with forms of frontotemporal dementia (FTD) or Alzheimer's, and friends and relatives of 21 healthy controls to complete questionnaires about their loved one's sense of humor.
The questionnaires asked about the participants' enjoyment of different comedy styles such as slapstick, satirical, or absurdist, and also asked the friends and relatives if they had noticed any changes in their loved one's sense of humor in the previous 15 years.
The researchers found that those with bvFTD or Alzheimer's were more likely to prefer slapstick humor compared with the healthy controls. They also found that compared to participants with Alzheimer's or the healthy controls, those with bvFTD were more likely to have had inappropriate moments of humor, such as laughing at things others would not normally find funny, such as a barking dog, or laughing at tragic events on the news or in their personal lives. The friends and relatives noticed changes in humor a minimum of 9 years before more common dementia symptoms presented.
The researchers note that clinicians should be more aware that in addition to personality and behavioral changes, humor changes may be an early sign of dementia.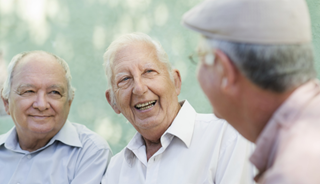 Friends and relatives of those with dementia noticed instances of darker or inappropriate humor nine years before disease onset.
We have all heard the saying "laughter is the best medicine." But according to new research, a noticeable change in what makes us laugh may not be a good sign for cognitive health: it may be an early indicator for dementia.
Researchers from University College London (UCL) in the UK found that people whose sense of humor became darker with age were more likely to have behavioral variant frontotemporal dementia (bvFTD) — a form of frontotemporal dementia (FTD) characterized by changes in behavior — and that this change in humor began years before disease onset.
FTD is the most common form of dementia among people in their 50s. Unlike with Alzheimer's disease, memory problems are not a highly prominent symptom of the condition.
Sign Up for Free e-newsletters
Check out what's trending