May 01, 2015
First Symptoms of Alzheimer's Disease Vary By Age
the Psychiatry Advisor take:
Patients who are newly diagnosed with Alzheimer's disease have symptoms that vary depending on their age.
While Alzheimer's is often associated with memory loss, new research indicates that younger patients are less likely to have that as the predominant symptom at diagnosis. Rather, symptoms tend to focus on visuospatial function, such as becoming lost or disoriented in environments that are familiar to that person.
Josephine Barnes, PhD, of the National Hospital for Neurology and Neurosurgery in London, and colleagues examined data from more than 7,800 patients in the US National Alzheimer's Coordinating Center dataset.
While impaired memory was the most commonly presented symptom, its frequency declined with age. While memory loss was the predominant symptom is patients more than 79 years old, that was the case in just 74% of those younger than 60, the researchers reported in the journal Alzheimer's & Dementia.
Among the younger than 60 years old group, 8% had judgment or problem solving as their predominant presenting symptoms. Visuospatial and language problems accounted for 7% each, while attention or concentration problems was the predominant symptom in 3% of this cohort.
Depression was more common among younger patients than older ones (30% vs. 19%), while psychosis was higher in the oldest group (7% vs. 3%).
"Better awareness of non-memory symptoms and more comprehensive testing would allow for improved services for patients: for example, the development of appropriate information materials for those with visuospatial problems and support services for those who experience behavioral symptoms," the researchers wrote.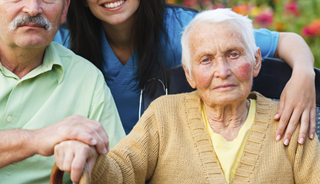 First Symptoms of Alzheimer's Disease Vary By Age
The symptoms presented by patients newly diagnosed with Alzheimer's disease (AD) vary with age, with younger patients less likely to have initial memory problems, research shows.
Instead, these patients often presented with symptoms such as trouble with visuospatial function, report Josephine Barnes (National Hospital for Neurology and Neurosurgery, London, United Kingdom) and co-workers.
They note that the 2011 US National Institute on Aging–Alzheimer's Association workgroups guidelines acknowledge that AD patients can present without initial memory problems, and include behavioral symptoms in the diagnostic criteria.
Sign Up for Free e-newsletters
Check out what's trending