September 03, 2014
Electromagnetic Brain Stimulation May Improve Memory
the Psychiatry Advisor take:
Another study has found that the use of transcranial magnetic stimulation (TMS), which involves using electromagnets to send electric pulses into a person's brain, can improve memory, potentially benefiting neurocognitive disorders.
Jane X. Wang, PhD, of Northwestern University Feinberg School of Medicine, Evanston, Illinois, and colleagues administered MRIs to 16 healthy individuals in order to get a baseline of cognitive functioning, as well as map the brain's memory network.
The team then administered TMS for 20 minutes daily on five consecutive days, giving patients memory tests after each treatment.
The stimulation sessions increased functional connectivity among brain regions and also improved associative memory performance, the researcher reported in Science.
"At baseline, these regions work together fairly well," senior study author Joel L.Voss, PhD, also of Northwestern's medical school, told Newsweek. "Over the course of five days of TMS treatment, they work together better. They're working even more in concert with one another — like an orchestra getting a better conductor."
In June, researchers in Israel found that TMS led to a reduction in negative symptoms of schizophrenia. In the future, Voss said that the team will conduct the same experiment on older adults with memory decline and individuals with early-stage Alzheimer's disease.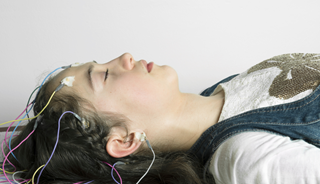 Electromagnetic Brain Stimulation Improves Memory
Researchers at Northwestern Medicine have now discovered another therapeutic use for applying electric current to the brain: bolstering memory. According to a study in the August 29 issue of Science, transcranial magnetic stimulation (TMS) — put simply, using a powerful electromagnet to shoot electricity into a person's head — can stimulate the parts of the brain associated with memory, such that the neurons in that brain region work better together.
The research has dramatic implications for memory-impaired individuals, such as Alzheimer's patients and stroke victims, as well as those who have suffered from memory loss due to psychiatric conditions like schizophrenia.
Sign Up for Free e-newsletters