June 29, 2015
Diabetes Drug Cuts Dementia Risk Significantly
the Psychiatry Advisor take:
While prior research has indicated that older adults with diabetes are at an increased risk for dementia compared to non-diabetics, taking a commonly prescribed medication for diabetes may help to alleviate that risk.
Researchers at the German Center for Neurodegenerative Diseases in Bonn examined data from over 145,000 men and women aged 60 and over taken from 2004 through 2010. The data was provided by German public insurance company AOK.
While their analysis confirmed that diabetics have a higher risk of developing dementia, they also noticed those patients who were taking the oral medication pioglitazone (Actos) were less likely to develop dementia than those not on the drug, the researchers reported in the journal Annals of Neurology.
The risk of developing dementia in those who were taking pioglitazone was about 47% less than non-diabetics, according to the study. And the longer patients were on the drug, the lower the risk. Researchers noted that the dementia risk reduction was greatest when the drug was taken for at least two years.
Another widely prescribed diabetes drug, metformin, also lowered the risk of developing dementia, though the reduction was not as great as was seen with pioglitazone.
"Our study suggests that pioglitazone has a preventive effect," neurologist Michael Heneka, MD, a co-author of the study, said in a statement "This happens when the drug is taken before symptoms of dementia manifest. Thus, it protects in particular against Alzheimer's, the most common form of dementia."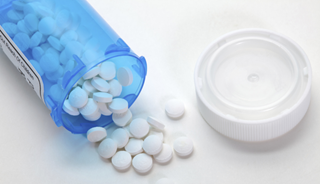 Older adults with type 2 diabetes that took pioglitazone had about half the risk of developing dementia as non-diabetics.
Patients with type 2 diabetes have a dysfunctional sugar metabolism because the essential hormone insulin does not work effectively. Once the disease reaches an advanced stage, the body stops producing insulin altogether, which means that it has to be administered externally.
Type 2 diabetes most commonly occurs in late adulthood, and it has long been known that it can affect the patient's mental health: Patients have a greater risk of developing dementia than non-diabetics. However, how does antidiabetic medication influence this risk?
Sign Up for Free e-newsletters