November 24, 2014
Despite High Risk, Alzheimer's Education Lax Among African-Americans
the Psychiatry Advisor take:
Although elderly African-Americans are nearly twice as likely as whites to develop Alzheimer's disease, the condition is not discussed much in the African-American community, nor do many in that population participate in clinical trials for Alzheimer's treatments.
However, efforts are underway, including a play that is touring, to educate African-Americans on what the disease is like and encourage them to seek medical attention for relatives who may be suffering from it.
"You just don't hear about Alzheimer's in the black community. There's some stigma," Stephanie Monroe, associate director of the African-American network at the Washington, D.C.-based nonprofit USAgainstAlzheimer's, told The Washington Post.
Part of the the reason why African-Americans have a higher risk of developing Alzheimer's is that they are more likely to carry the apolipoprotein E (APOE) e4 gene variant, which is as known Alzheimer's risk factor.
Recent research has found that another gene, ABCA7, which is involved in metabolizing cholesterol and a cellular transport, makes African-Americans 1.8 times more likely than whites to develop Alzheimer's.
Other researchers say that other comborbidies in the African-American community — diabetes, hypertension and cardiovascular disease — also may contribute to Alzheimer's.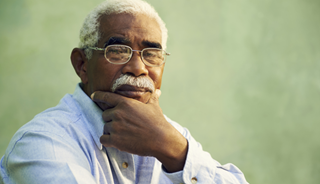 Despite High Risk, Alzheimer's Rarely Discussed by African-Americans
Studies show that older African-Americans are almost twice as likely as whites to develop Alzheimer's disease for genetic, biological and socioeconomic reasons. Diet and even the stress of experiencing racism can be factors.
Yet, relatively few African-Americans want to talk about Alzheimer's, which is the leading cause of dementia. For historical reasons, even fewer want to participate in clinical research trials that could deliver benefits to themselves and future generations.
The effort to engage African-Americans on Alzheimer's comes as the U.S. population ages and becomes more diverse. More than 5 million Americans are living with Alzheimer's, a number expected to more than triple by 2050, according to the Alzheimer's Association.
Sign Up for Free e-newsletters
Check out what's trending