February 23, 2015
Depression Linked to Higher Dementia Risk in Mild Cognitive Impairment
the Psychiatry Advisor take:
People with mild cognitive impairment (MCI) who also have diabetes or depression run a higher risk of developing dementia.
Claudia Cooper, PhD, of University College London, United Kingdom, and colleagues reviewed data from 62 studies involving nearly 16,000 people with MCI. Those with diabetes were 65% more likely to have their MCI progress to dementia, the researchers reported in the American Journal of Psychiatry. In addition, those with other psychiatric symptoms, such as depression, were more than twice as likely to develop the neurocognitive disease.
They also found that eating a Mediterranean diet decreased the risk of developing dementia. That diet focused on high intake of fruits and vegetables with little eating of meat and saturated fats. Also, lower serum folate levels (B complex vitamins) predicted a higher risk for dementia.
However, the researchers noted that dietary and lifestyle changes should be considered to help older adults avoid developing dementia.
"Lifestyle changes to improve diet and mood might help people with MCI to avoid dementia, and bring many other health benefits," Cooper said in a statement. "This doesn't necessarily mean that addressing diabetes, psychiatric symptoms and diet will reduce an individual's risk, but our review provides the best evidence to date about what might help."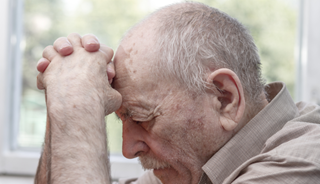 Depression Linked to Higher Dementia Risk in Mild Cognitive Impairment
People with mild cognitive impairment are at higher risk of developing dementia if they have diabetes or psychiatric symptoms such as depression, finds a new review led by UCL researchers.
Mild cognitive impairment (MCI) is a state between normal aging and dementia, where someone's mind is functioning less well than would be expected for their age. It affects 19% of people aged 65 and over, and around 46% of people with MCI develop dementia within 3 years compared with 3% of the general population.
Sign Up for Free e-newsletters
Check out what's trending