December 16, 2014
Dementia Patients Living At Home More Likely to Be Depressed
the Psychiatry Advisor take:
People who have dementia that live at home are more likely to also have depressive symptoms than those living in long-term care facilities.
David Challis, PhD, of the University of Manchester, United Kingdom, and colleagues looked at more than 400 people with dementia who lived in eight European countries. They collected information on the participants' quality of life, daily living activities, and presence of depressive symptoms using standardized measures.
While 37% of dementia patients in the study that lived at home had symptoms of depression, only 23% of those in nursing homes did, the researchers reported in the journal International Psychogeriatrics.
"This difference may be partly explained by the responses received from carers," Challis said, according to Nursing Times. "Often, relatives of people with dementia are more distressed by symptoms of depression than professional care workers, so this may have influenced their ratings on the depression measure.
"What we need is more support for carers to help them cope with their relatives' depressive symptoms and to recognize the problem before it gets to severe levels," he added.
The study also found that antidepressant prescribing rates varied among European countries. England and Spain had the highest rates, while Germany had the lowest.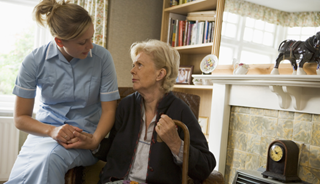 Home Nurses Integrating Depression Care Benefits Elderly
Dementia patients residing in long-term care homes are less likely to suffer from depressive symptoms than those living in the community, according to study findings.
Researchers from University of Manchester found 37% of people living in the community showed signs of depression compared to 23% of those in care homes.
It is one of the few studies comparing similar groups of people living at home and in nursing homes. The study looked at 414 people with severe dementia and their carers in eight EU countries — England, Estonia, Finland, France, Germany, the Netherlands, Spain and Sweden.
Sign Up for Free e-newsletters
Check out what's trending