March 02, 2017
Dementia Risk Increased With Middle Age Heart Disease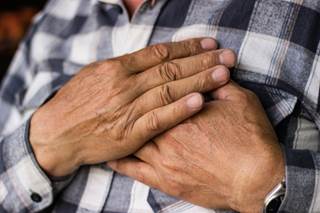 Researchers studied data from the ARIC cohort over a 25-year period.
Having heart disease risks in middle age may increase the risk for developing dementia later in life, according to data presented at the 2017 International Stroke Conference in Houston.1
The researchers explored associations between vascular risk factors in midlife and dementia development over a 25-year period in the Atherosclerosis Risk in Communities (ARIC) cohort. Participants were between the age of 45 and 64, and were recruited between 2011 and 2013 for the ARIC Neurocognitive Study (ARIC-NCS) to identify cases of dementia.1
Of the 15,744 patients, 1516 had dementia. The risk for dementia was highest in individuals who were older; had less education; were black; carried APOE e4; and had hypertension, diabetes, or were current smokers at baseline. APOE e4 and smoking were both stronger risk factors for dementia in white patients than in black patients.1
"Diabetes raises the risk almost as much as the most important genetic risk factor for Alzheimer's disease," Dr Gottesman said in a American Heart Association/American Stroke Association press release.2 In fact, patients with diabetes in middle age had a 77% higher risk for developing dementia than patients without diabetes.
In addition, midlife smokers had a 41% increased risk of developing dementia vs non- or former smokers, and patients with hypertension (≥140/90 mm Hg) or prehypertension (between 120/80 mm Hg and 139/89 mm Hg) had a 39% and 31% increased risk, respectively.2
Although ARIC is an observational study, and therefore the researchers could not test whether treating heart risk factors decreases the risk of dementia later in life, Dr Gottesman pointed out, "The benefit is that this is a long-term study and we know a lot about these people. Data like these supplement data from clinical trials that look at the impact of treatment for heart disease risks."2
References
Gottesman RF, Albert M, Coker L, et al. Heart risks in middle age boost dementia risk later in life. Session A14 — Abstract 98. Presented at: the 2017 International Stroke Conference; February 22-24, 2017: Houston, TX.
Heart risks in middle age boost dementia risk later in life [news release]. Houston, TX: American Stroke Association; February 22, 2017. http://newsroom.heart.org/news/heart-risks-in-middle-age-boost-dementia-risk-later-in-life?preview=ea11