November 18, 2014
Coping Therapy Reduces Depression, Anxiety in Dementia Caregivers
This article originally appeared
here.
the Psychiatry Advisor take:
A short therapy program involving coping strategies for family members taking care of loved ones with dementia provided cost-neutral, long-term reduction of depression and anxiety symptoms.
Gill Livingston, MD, of University College London, United Kingdom, and colleagues found that their psychological intervention, called START (STrAtegies for RelaTives), led to improvements in mood and anxiety that lasted for two years.
About two-thirds of dementia patients who live at home are cared for by a family member. About 40% of these caregivers develop clinical depression or anxiety. Researchers sought to find a cost-effective way to alleviate some of these psychological symptoms.
The study included 260 self-identified family caregivers of people with dementia who had been referred in the previous year and gave support at least once a week to the person with dementia. Caregivers were randomly assigned to START, an eight-session, manual-based coping intervention delivered by supervised psychology graduates, or treatment as usual.
After 24 months, the START group had significantly better Hospital Anxiety and Depression Scale total scores (HADS-T) compared with treatment as usual (mean difference -2.58 points), the researchers reported in The Lancet Psychiatry. Also, START cost no more than usual care and met cost-effectiveness criteria.
In a related commentary, Sube Banerjee, MD, MBBS, of University of Sussex, United Kingdom, said, "The START intervention should be offered as individual therapy to all family carers of people with dementia as part of the support with a timely diagnosis."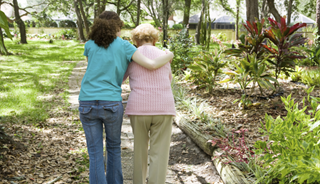 Coping Therapy Reduces Depression, Anxiety in Dementia Caregivers
A brief coping strategies therapy which provides stress relief and emotional support for people caring for relatives with dementia can reduce depression and anxiety and improve wellbeing at no extra cost to standard care, new research published in The Lancet Psychiatry suggests.
The study led by Gill Livingston, Professor of Psychiatry of Older People at University College London in the UK, found that family caregivers receiving the START (STrAtegies for RelaTives) program were seven times less likely to develop clinically significant depression than those given usual care, with benefits lasting for at least two years.