April 30, 2015
Compound Blocks Amyloid Production in Alzheimer's Mouse Model
the Psychiatry Advisor take:
Researchers have found a compound that was able to inhibit the production of beta amyloid in rats, a discovery that could have implications for treating Alzheimer's disease in humans.
Nazneen Dewji, PhD, of the University of California, San Diego School of Medicine, and colleagues found that rats given the compound, known as P8, resulted in, on average, a 50% reduction in beta amyloid plaque accumulation compared to rats who didn't receive the treatment over a two-week period. Results were reported in PLOS One.
Targeting beta amyloid is nothing new in the quest for an Alzheimer's treatment. Experimental drugs targeting beta amyloid have targeted the enzymes that separate the toxic protein from the larger amyloid precursor protein (APP).
But these candidates have largely failed, "mostly because they are responsible for cleaving other proteins besides APP," according to Dewji. "Inhibiting or modifying their activities creates many undesirable effects in the cell."
P8 is different. It works by binding to the APP directly, blocking it from it becoming smaller amyloid peptides.
"We now have a new approach for the treatment of Alzheimer's disease that can arrest the production of beta amyloid very early and specifically," Dewji, who is also CEO of Cenna Biosciences, which is focused on developing new Alzheimer's treatments, said in a statement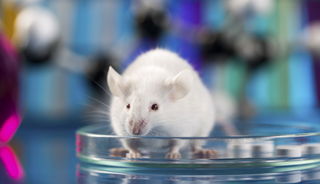 Compound Blocks Amyloid Production in Alzheimer's Mouse Model
Offering a potential early intervention for Alzheimer's disease, researchers at University of California, San Diego School of Medicine and Cenna Biosciences, Inc. have identified compounds that block the production of beta amyloid peptides in mice. The study is reported in PLOS ONE.
If the results ultimately translate to human treatment, the most promising compound — a peptide dubbed P8 — could be administered to individuals at high risk of developing the disease, long before the tell-tale signs of dementia occur and perhaps with few side effects, due to the compound's highly specific mode of action.
Sign Up for Free e-newsletters