April 01, 2015
Cancer Drug Shows Promise As Alzheimer's Treatment
the Psychiatry Advisor take:
A drug that was originally developed to treat cancer may also be able to restore memory and reverse cognitive problems, based on a study in mice.
Researchers at Yale University found that the drug, saracatinib, also targeted beta-amyloid protein in the brain. Beta-amyloid is thought to contribute to the development of Alzheimer's disease.
Stephen Strittmatter, MD, PhD, and colleagues understood from prior studies that a protein known as Fyn kinase plays a key role in how beta-amyloid clusters damage brain cells. Saracatinib also targets Fyn protein
The drug, which was developed by AstraZeneca, had already cleared testing in animals and had even had safety testing done in humans. The team was also helped by a program from the National Center for Advancing Translational Sciences that seeks to test existing pharmaceutical assets for new therapeutic uses.
The Yale team gave saracatinib to mice experiencing memory loss and build-up of beta-amyloid. Four weeks later, the mice showed complete reversal of spatial learning and memory loss, they reported in the journal Annals of Neurology.
A Phase I safety trial of the drug in humans has already been conducted by the researchers. They are in the midst of enrolling 152 patients for a Phase II trial, in which participants will receive either saracatinib or a placebo for a year.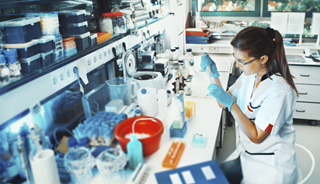 Cancer Drug Shows Promise As Alzheimer's Treatment
A drug originally designed to target cancer has been found to restore memory and reverse cognitive problems in mice with Alzheimer's disease-like symptoms and could offer a path forward to a treatment for humans someday, a new study found.
Yale University researchers found that the previously approved drug, saracatinib, targeted beta amyloid deposits and reduced their toxic effect on surrounding brain cells. The buildup of beta amyloid in the brain can be a precursor of Alzheimer's disease in the aging brain.
Sign Up for Free e-newsletters