March 26, 2015
Can Milk Improve Brain Health and Prevent Alzheimer's?
the Psychiatry Advisor take:
An tagline in old milk commercials said that milk does a body good, and new research seems to indicate that downing glasses of the white liquid can do your brain good as well.
In-Young Choi, PhD, an associate professor of neurology at the University of Kansas Medical Center, and Debra Sullivan, PhD, professor and chair of dietetics and nutrition there, found a correlation between drinking milk and higher levels of glutathione, a naturally-occurring antioxidant, in healthy older people.
Glutathione is thought to lessen oxidative stress. The stress is associated with diseases, including Alzheimer's disease and Parkinson's disease.
"You can basically think of this damage like the buildup of rust on your car," Sullivan said in a statement. "If left alone for a long time, the buildup increases and it can cause damaging effects."
Choi and Sullivan asked 60 participants about their dietary habits before taking brain scans to measure glutathione levels. Participants who had consumed milk recently had higher levels of glutathione, they reported in the American Journal of Clinical Nutrition.
The researchers said that the finding is significant given the protective properties glutathione has for the brain.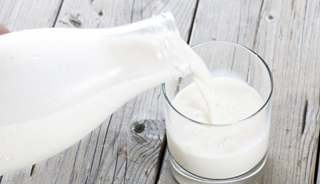 Can Milk Improve Brain Health and Prevent Alzheimer's?
Those who guzzled the white stuff were more likely to have healthy brains because of an natural antioxidant which protects the brain from damage. Researchers found a correlation between milk consumption and higher levels of a naturally-occurring antioxidant called glutathione in healthy older people.
The antioxidant is believed to help stave off oxidative stress and the resulting damage caused by reactive chemical compounds produced during the normal metabolic process in the brain.
Sign Up for Free e-newsletters