April 06, 2015
Caffeine Could Play Role in Treating Alzheimer's
the Psychiatry Advisor take:
Having a morning cup of coffee may do more than just help wake you up. It may also help to prevent and treat Alzheimer's disease, according to a new study.
Abhishek Mohan, BS, of Old Dominion University, Norfolk, Va., and colleagues say that caffeine may be effective in reducing levels of beta-amyloid plaque in the brain. The toxic protein is closely associated with Alzheimer's disease.
Mohan and his team reviewed already published research on the link between caffeine and beta-amyloid. For example, they wrote in The Journal of Caffeine Research that in studies in mice, caffeine was used to slow down or prevent the formation of beta-amyloid plaque. These results indicate "there are ways to stop the formation of amyloid plaques or enable the brain to clear the deposits as they form."
In one mouse study, the cerebellums of caffeinated mice had an almost 50% reduction in levels of beta-amyloid. And in other studies, oral caffeine given to mice from young adulthood into older age limited the brain's production of beta-amyloid and protected the mice for certain kinds of cognitive impairment in older age.
However, the researchers admit that some of the evidence supporting caffeine's benefit in Alzheimer's is inconclusive, and most of the studies were conducted in non-human subjects.
"Based on the results from various studies, it is vital to focus on caffeine as a crucial part of the development of treatment and management of substances for" Alzheimer's, the researchers concluded.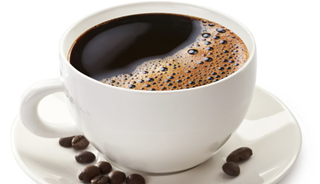 Caffeine Could Play Role in Treating Alzheimer's
The proposed link between caffeine and reductions in the beta amyloid plaque accumulation characteristic of Alzheimer's disease (AD) suggest a possible role for caffeine in AD treatment.
The latest evidence linking beta amyloid protein to Alzheimer's disease and exploring the relationship between caffeine and beta amyloid are featured in a review article in Journal of Caffeine Research: The International Multidisciplinary Journal of Caffeine Science.
In the article "Caffeine as Treatment for Alzheimer's: A Review", Abhishek Mohan, BS, Old Dominion University (Norfolk, Va.), and coauthors identify the potential opportunities for using caffeine to reduce beta amyloid levels as a means of preventing, treating, and slowing the progression of Alzheimer's disease.
Sign Up for Free e-newsletters
Check out what's trending