February 17, 2015
Brichos Molecule Could Potentially Slow Alzheimer's Onset
the Psychiatry Advisor take:
A molecule that occurs naturally in the human body might be used to slow the build-up of beta-amyloid plaque, the substance thought to cause Alzheimer's disease, potentially delaying onset of the disease.
Samuel Cohen, PhD, of the University of Cambridge, United Kingdom, and colleagues conducted a study in mice with the molecule, called Brichos, which sticks onto amyloid threads, and stops them from forming additional clumps of plaque.
"It doesn't stop the initial formation, but it stops it becoming a chain reaction," Cohen told The Guardian newspaper.
Amyloid protein was injected into the brains of the mice, which reduced the level of electrical activity called "gamma waves" in the brain, an indication of the toxic nature of the amyloid. However, when the mice were then injected with amyloid along with the Brichos molecule, gamma wave activity was not impacted and was the same as that in healthy control mice, the researchers reported in the journal Nature Structural & Molecular Biology.
The researchers cautioned, however, that Brichos would not work well as a drug because it would be absorbed into the body before it reaches the brain.
"A good tactic now is to search for other molecules that have this same highly targeted effect and to see if these can be used as the starting point for developing a future therapy," Cohen said.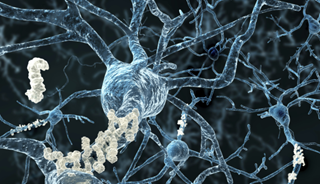 Researchers Find Way to Potentially Slow Onset of Alzheimer's
The onset of Alzheimer's disease could be delayed by a molecule that occurs naturally in humans, research suggests.
The study in mice showed that the "housekeeping" molecule put the brakes on a runaway process in the brain that leads to the most common form of dementia.
The substance works by slowing the accumulation of sticky clumps of protein in the brain, which typically appear years before symptoms such as memory loss become apparent in patients.
Although the molecule tested would be difficult to convert into a drug for use in humans, the scientists said, the findings prove that the cycle that leads to Alzheimer's devastating impact on memory and personality can be interrupted.
Sign Up for Free e-newsletters
Check out what's trending