April 02, 2015
Brain Pathways Deteriorate in Alzheimer's Disease
the Psychiatry Advisor take:
People with Alzheimer's disease experience deterioration of the pathways between different regions of the brain, according to a study published in the Journal of Alzheimer's Disease.
A test used to assess this deterioration may also function as an easy-to-use test to identify individuals at risk for Alzheimer's disease.
Researchers at York University in Toronto, Canada, enrolled 30 women, 10 of whom were in their mid-20s. The remaining participants were 50 years old and older, and half of them had a high risk of developing Alzheimer's disease due to the presence of the ApoE4 gene.
The participants had to complete a computerized car-driving task. Difficulty in completing the task was associated with a high risk for Alzheimer's disease.
The researchers scanned each participant's brain to see if the impaired cognitive-motor performance among high-risk participants could be linked to brain changes aside from standard aging. They found that those with a high risk showed a breakdown in the brain's ability to communicate between different regions, which impaired functioning.
The researchers believe that their relatively simple task can be an alternative to more in-depth brain imaging tasks that many people do not routinely undergo.
The results suggest that slowing or stopping these communication problems can help preserve functioning in people with Alzheimer's disease. The researchers hope to develop a cognitive-motor task that can train the brain to maintain pathways that involve thinking and moving.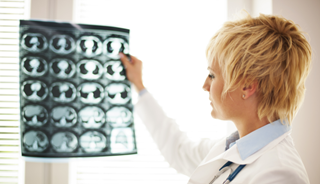 Brain Pathways Deteriorate in Alzheimer's Disease
Researchers have developed a new, easy-to-use test to identify those at risk for Alzheimer's disease.
The work is associated with a recent brain imaging study on women at risk for Alzheimer's disease and seeks to flag early symptoms.
In the study, York University researchers discovered deterioration in the pathways that serve to communicate signals between different brain regions needed for performing everyday activities.
Functional declines associated with difficulty in driving a car or using a computer were found to be associated with Alzheimer's risk.
Sign Up for Free e-newsletters