October 28, 2014
Blood Test Can Detect Alzheimer's Years Before Symptoms Appear
the Psychiatry Advisor take:
A blood test has been developed that can detect Alzheimer's disease even before symptoms of the condition are present.
Andrew Hill, PhD, of the University of Melbourne, Australia, and colleagues examined the blood of 100 patients whose average age was 80. The group included those with and without a family history of Alzheimer's, people with mild cognitive impairment and others already with Alzheimer's.
Patients with a certain set of genetic material known as microRNA were found to have signs of brain degeneration similar to what is seen in Alzheimer's after a brain imaging scan was conducted, the researchers reported in the journal Molecular Psychiatry.
While other testing, including testing cerebral spinal fluid and brain imaging, are current available to predict Alzheimer's, the researchers say that the blood test can make a detection much earlier and at less cost than those other methods.
Accuracy is another benefit of the blood test. While additional investigation is needed to confirm, researchers said the test has the potential to have 91% accuracy.
Earlier this year, researchers in the United Kingdom identified 10 proteins which they claimed indicate whether a person with mild cognitive impairment will develop Alzheimer's — and with 87% accuracy.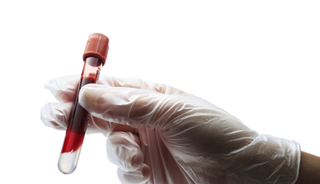 Blood Tests May Help Predict ALS Survival
A blood test developed by Melbourne University researchers can detect Alzheimer's disease years before symptoms become apparent, a study has shown. Researchers made the finding after testing 100 people for genetic material called microRNA, which circulates in the bloodstream.
They found that people with Alzheimer's disease, or likely to develop it, had a particular genetic signature which distinguishes them from healthy people. Researchers studied the blood of 100 people, whose average age was 80, as part of the study, published on Tuesday in the journal Molecular Psychiatry.
Sign Up for Free e-newsletters