August 28, 2014
Biomarker for Alzheimer's Found in Cerebral Spinal Fluid
the Psychiatry Advisor take:
A protein found in cerebral spinal fluid (CSF) has been shown to be an effective biomarker for the diagnosis of Alzheimer's disease, independent of the make-up of a key gene related to the disorder.
Ronald Lautner, MD, of Sahlgrenska University Hospital, Mölndal, Sweden, and colleagues found that the presence of beta-amyloid 42 as an Alzheimer's predictor is independent of the genotype of the apolipoprotein E (APOE) gene, which is the most prominent susceptibility gene for late-onset Alzheimer's.
Beta-amyloid plaque is frequently found in the brains of Alzheimer's patients and is thought to contribute to the disease.
The study, published in JAMA Psychiatry, is significant for the use of genetic and CSF biomarkers as diagnostic tools, as it clarified the extent the APOE genotype and CSF biomarkers are related and if they provide overlapping versus complementing information for the diagnosis and prognosis of Alzheimer's.
"Finally, CSF biomarkers are strongly associated with AD diagnosis…independently of APOE genotype," Lautner said.
Genetics are playing a growing role in the treatment of many psychiatric disorders. An analysis of DNA from thousands of patients might offer new targets for developing drugs for autism and other neurological disorders, including attention-deficit/hyperactivity disorder and schizophrenia. Also, personalized treatments for schizophrenia are being looked at through genomic testing.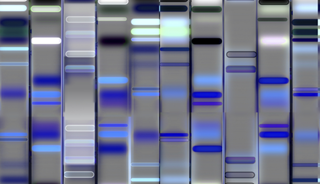 Biomarker for Alzheimer's Found in Cerebral Spinal Fluid
Several studies suggest that the apolipoprotein E (APOE) ε4 allele modulates cerebrospinal fluid (CSF) levels of β-amyloid 42 (Aβ42). Whether this effect is secondary to the association of the APOE ε4 allele with cortical Aβ deposition or whether APOE ε4 directly influences CSF levels of Aβ42 independently of Aβ pathology remains unknown.
The objective of the study is to evaluate whether the APOE genotype affects the diagnostic accuracy of CSF biomarkers for Alzheimer's disease (AD), in particular Aβ42 levels, and whether the association of APOE ε4 with CSF biomarkers depends on cortical Aβ status.
This article originally appeared
here.
Sign Up for Free e-newsletters