October 15, 2015
Questions Over Beta-Amyloid May Have Alzheimer's Treatment Ramifications
the Psychiatry Advisor take:
New research is questioning the shape and composition of the structures that form beta-amyloid plaque — the hallmark of Alzheimer's disease — that could have implications for how drugs are designed that tackle the formation of the plaque.
Researchers at the Institute for Research in Biomedicine, Barcelona, Spain, examined abeta fibrils, the structures that first form in the brain when beta-amyloid protein start to clump together. More specifically, they looked at Abeta 40 and Abeta 42, the two most common forms of Abeta. Abeta 42 is the most common variant found in Alzheimer's.
Currently, Alzheimer's researchers use a technique called SDS-PAGE to analyze the beta-amyloid clumps. But the Spanish researchers say this methodology is flawed because of incorrect conclusions it makes about the shapes of protein and the number of molecules they have.
Because of the belief that Abeta 42 formed mainly of pentamers and hexamers, it was thought that these formed "beta-sheets," which drugmakers have been focused on tackling. However, using mass spectrometry, the Spanish researchers discovered that both Abeta 40 and Abeta 42 form dimers, trimers and tetramers and that they are spherical and lack a defined structure, they reported in the journal Scientific Reports.
They add that the assumption that drugs have to interfere with the beta-sheet structure in order to target the clumping of beta-amyloid in Alzheimer's should be reconsidered, and recommend caution when using SDS-PAGE to study Abeta.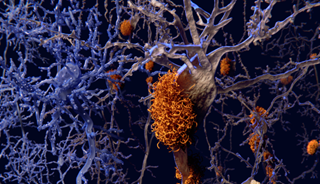 The shape and composition of structures that make up beta-amyloid plaque is different than widely assumed with implications for drug development.
The clumping of beta-amyloid protein into plaques that clog up the brain is a key hallmark of Alzheimer's disease. Much research into the causes and treatment of the disease relies on techniques that characterize this process. Now, a new study challenges a commonly held view about the shape and composition of the initial structures that form when the beta-amyloid molecules come together.
It finds that a technique used by Alzheimer's disease researchers to analyze the beta-amyloid clumps as they initially come together is flawed because of conclusions it draws about the shapes of the aggregated proteins and the number of molecules they contain. The technique is called SDS-PAGE.