September 10, 2014
Benzodiazepines May Increase Risk for Alzheimer's
the Psychiatry Advisor take:
People that take benzodiazepines long-term may be putting themselves at an increased risk for developing Alzheimer's disease.
Using benzodiazepines, tranquilizers that are commonly prescribed — especially to the elderly — to treat anxiety and insomnia, is associated with an increased risk of Alzheimer's disease of up to 51%, according to research published in the BMJ. And the longer the exposure to benzodiazepines, the greater the risk of Alzheimer's.
In addition, benzodiazepines that are longer-acting, such as diazepam (Valium) were also found to increase the risk compared to shorter-acting ones, such as lorazepam (Ativan).
Sophie Billioti de Gage, PhD, of the University of Bordeaux, France, and colleagues examined 1,796 people (age >66) in Quebec, Canada, with a first diagnosis of Alzheimer's and compared them to 7,184 control subjects.
"Our findings are of major importance for public health, especially considering the prevalence and chronicity of benzodiazepine use in older people and the high and increasing incidence of dementia in developed countries," the researchers wrote.
"In view of the evidence, it is now crucial to encourage physicians to carefully balance the benefits and risks when initiating or renewing a treatment with benzodiazepines and related products in older patients," they added. "Despite the lack of data in younger adults, the precautionary principle would also support extending that recommendation to them."
Kristine Yaffe, MD, of the University of California at San Francisco, and Malaz Boustani, MD, of the Indiana University Center for Aging Research, wrote in an accompanying editorial that while benzodiazepines were added to the American Geriatrics Society's list of inappropriate medications for senior two years ago, almost 50% of them still use them.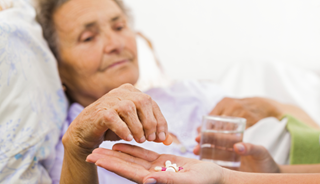 Benzodiazepines May Increase Risk for Alzheimer's
The purpose of this case-control study is to investigate the relation between the risk of Alzheimer's disease and exposure to benzodiazepines started at least five years before, considering both the dose-response relation and prodromes (anxiety, depression, insomnia) possibly linked with treatment.
1796 people with a first diagnosis of Alzheimer's disease and followed up for at least six years before were matched with 7184 controls on sex, age group, and duration of follow-up. Both groups were randomly sampled from older people (age >66) living in the community in 2000-09.
Sign Up for Free e-newsletters