May 20, 2015
Amyloid Plaque May Appear in Brain 30 Years Before Alzheimer's Onset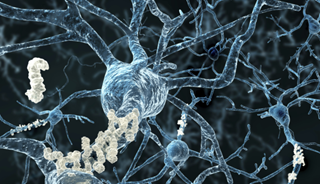 Amyloid Plaque May Appear in Brain 30 Years Before Alzheimer's Onset
HealthDay News — Abnormal protein clumps may appear in the brain up to 30 years before people develop Alzheimer's disease, a new study estimates, perhaps providing a window of opportunity to intervene.
The new study, published in the Journal of the American Medical Association, confirms that brain plaques of amyloid protein become increasingly common as people age — even when memory and thinking are still intact.
However, at all ages, plaques are more common among people with risk factors for Alzheimer's. That includes people who already have milder memory problems, and those who carry a gene variant — APOE4 — that boosts risk for Alzheimer's, the most common form of dementia.
But, the study authors estimate those brain plaques may emerge 20 to 30 years before full-blown Alzheimer's symptoms arise.
For their study, a team led by Pieter Jelle Visser, MD, PhD, of Maastricht University in the Netherlands, pooled data from dozens of previous, small studies. In total, they included almost 3,000 adults with normal memory and thinking skills, and nearly 4,000 with mild impairments, who were between 18 and 100 years old. In each study, researchers used either PET scans of the brain, or samples of spinal fluid, to detect amyloid deposits.
Among people with intact mental skills, brain plaques grew increasingly common with age, Visser's team found. Ten percent of 50-year-olds showed amyloid deposits — a figure that swelled to 33% by age 80, and 44% at age 90.
The numbers were two to three times higher among people who carried the APOE4 gene variant, the investigators found.
Meanwhile, people with milder memory issues had a higher prevalence of brain plaques than their mentally sharper peers: almost 30% of 50-year-olds, nearly half of 70-year-olds, and 60% of 80-year-olds had amyloid deposits.
"If we can treat Alzheimer's disease in the early stage, we may prevent the onset of dementia," Jelle Visser said.
Reference
Visser PJ, et al. Prevalence of Cerebral Amyloid Pathology in Persons Without Dementia. JAMA. 2015; 313(19):1924-1938.