November 12, 2014
Alzheimer's Costs To Skyrocket As Baby Boomers Age
the Psychiatry Advisor take:
A dramatic rise in the expected number of people diagnosed with Alzheimer's disease in the coming decades could cause the total annual cost associated with the disorder to skyrocket from the current level of $307 billion to $1.5 trillion by 2050.
Researchers at the Schaeffer Center for Health Policy and Economics at the University of Southern California in Los Angeles came up with the projection based on data from the Health and Retirement Study (1998-2008) and the Aging Demographics and Memory Study (2001-2009) and a microsimulation to project future prevalence and costs.
Between 2010 and 2050, the number individuals aged at least 70 years with Alzheimer's is estimated to increase 147% from 3.6 million to 9.1 million. And while annual per person costs for those with Alzheimer's was more than $71,000 in 2010, that figure is expected to double by 2050, the researchers reported in the journal Forum for Health Economics and Policy.
The reason for the dramatic increase in cases and costs is due to a major rise in baby boomers becoming older.
However, the researchers said there are way the increases could be mitigated. Medical advances that could delay the onset of the disease by five years would add about 2.7 years of life for patients. And by 2050, a delay of that length would result in a 41% lower incidence of the disease and would lower overall costs by 40%.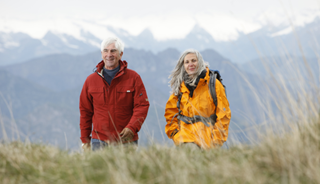 Alzheimer's Costs To Skyrocket As Baby Boomers Age
As baby boomers reach their sunset years, shifting nationwide demographics with them, the financial burden of Alzheimer's disease on the United States will skyrocket from $307 billion annually to $1.5 trillion, University of Southern California (USC) researchers announced.
Health policy researchers at the USC Leonard D. Schaeffer Center for Health Policy and Economics used models that incorporate trends in health, health care costs, education and demographics to explore the future impact of one of humanity's costliest diseases on the nation's population.
Sign Up for Free e-newsletters
Check out what's trending