September 11, 2015
Cells From Umbilical Cord May Boost Cognition in Alzheimer's
the Psychiatry Advisor take:
Cells transplanted from human umbilical cord blood cells may help to improve cognition in people with Alzheimer's disease, based on animal models.
Donna Darlington, PhD, of the Rashid Laboratory for Developmental Neurobiology at the Silver Child Development Center, University of South Florida, Tampa and colleagues, conducted experiments on mice modeled with Alzheimer's. Over several months, the mice were treated with human umbilical cord blood cells (HUCBCs)-treated monocytes, which are peripheral blood mononuclear cells critical in the immune system for fighting infection. Their behavior was monitored, and biochemical analyses were performed.
The HUCBC-derived monocytes lead to a decline in toxic amyloid-beta protein in the mice, as well as improved hippocampal-dependent learning, memory, and motor function, the researchers reported in the journal Cell Transplantation.
"We believe that phagocytosis (a process by which cells internalize solid particles) is a possible mechanism by which MNCs mediate Aβ clearance," the researchers wrote. "Most importantly, we found that aged monocytes were less effective against Aβ and that soluble amyloid precursor protein (sAPPa) could restore the phagocytic capabilities of these endogenous aged cells."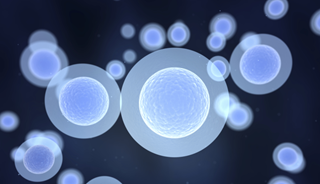 In mouse model, monocytes derived from the blood of human umbilical cord blood cells lead to improve memory and motor function.
Alzheimer's disease (AD), which affects an estimated 26 million people worldwide, is the fourth leading cause of death among the elderly and the leading cause of dementia. Predictions are that the number of AD cases will quadruple by 2050.
Although pharmacological methods for treating AD have been discovered, none significantly delay the progression of the disease. However, cell transplantation research using animals modeled with AD has indicated that human umbilical cord blood cells (HUCBCs) can ameliorate some cognitive deficits and reduce the effects of the amyloid-beta (Aβ) plaques, one of the physiological hallmarks of AD, comprised of peptides of 36-43 amino acids. However, the role that HUCBCs play in Aβ clearance has yet to be elucidated.