November 18, 2014
Alzheimer's Blood Test May Detect Disease Early
the Psychiatry Advisor take:
A new blood test may be able to detect Alzheimer's disease as much as 10 years before a normal diagnosis by looking for a single protein in the brain responsible for insulin signaling. In people with Alzheimer's, that protein, IRS-1, does not function properly.
A presentation on the test was made at the Society for Neuroscience annual meeting in Washington, D.C., by Dimitrios Kapogiannis, MD, a clinical investigator at the National Institute on Aging. Kapogiannis and colleagues collected blood samples from 70 individuals with Alzheimer's, 20 from elderly individuals with diabetes but no cognitive impairment and 84 healthy adults.
They discovered that people who had high levels of an inactive form of the IRS-1 protein were much more likely to eventually develop Alzheimer's than those with lower levels.
Even more remarkable, 22 patients with Alzheimer's provided blood samples 10 years before they were diagnosed, and the test was able to predict Alzheimer's even in those samples.
Although the research on the blood test is still in the early stages, the results presented by Kapogiannis seem to indicate that IRS-1 could be used as a biomarker for predicting Alzheimer's onset.
Last month, researchers in Australia said they had developed a blood test that could also predict Alzheimer's onset by looking for a genetic "signature" in microRNA.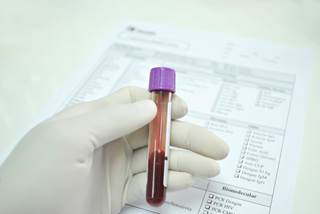 Alzheimer's Blood Test May Detect Disease Early
A new blood test for Alzheimer's appears to detect the disease as many as 10 years before clinical diagnosis is possible.
The test could soon be used to identify and treat patients with Alzheimer's earlier in their disease progression. Those people could participate in clinical trials to help find new treatments. Already, the test distinguishes between patients and healthy elderly with 100% accuracy.
The blood test is still in the early stages of development and has only been evaluated in 174 individuals, requiring a larger, long-term study before widespread use

Sign Up for Free e-newsletters