December 02, 2014
Alzheimer's Biomarker Possible With MRI Scan
the Psychiatry Advisor take:
An MRI scan could potentially be used as an imaging biomarker for Alzheimer's disease by detecting changes in brain connections.
Jeffrey W. Prescott, MD, PhD, a radiology resident at Duke University Medical Center in Durham, North Carolina, and colleagues examined results from 102 patients enrolled in the Alzheimer's Disease Neuroimaging Initiative (ADNI) 2, a national study.
The patients underwent diffusion tensor imaging (DTI), a type of MRI that measures white matter tracts in the brain known as the connectome that carry signals to different areas of the brain.
The researchers compared changes in the connectome with results from florbetapir positron emission tomography (PET) imaging, which measures the beta-amyloid plaque thought to cause Alzheimer's in the brain.
The was a strong association between florbetapir uptake and a decline in strength of the connectome in five areas of the brain, Prescott reported at the annual meeting of the Radiological Society of North America in Chicago. The increased uptake is associated with higher amount of beta-amyloid.
"This study ties together two of the major changes in the Alzheimer's brain — structural tissue changes and pathological amyloid plaque deposition — and suggests a promising role for DTI as a possible diagnostic adjunct," Prescott said in a statement.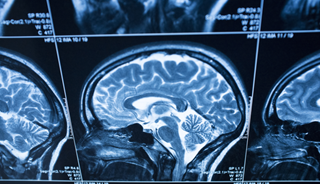 Alzheimer's Biomarker Possible With MRI Scan
Changes in brain connections visible on MRI scans could represent an imaging biomarker of Alzheimer's disease, according to a new study presented at the annual meeting of the Radiological Society of North America.
For the new study, researchers looked at the brain's structural connectome, a map of white matter tracts that carry signals between different areas of the brain.
Researchers analyzed results from 102 patients enrolled in a national study called the Alzheimer's Disease Neuroimaging Initiative (ADNI) 2. The patients had undergone diffusion tensor imaging, an MRI method that assesses the integrity of white matter tracts in the brain by measuring how easy it is for water to move along them
Sign Up for Free e-newsletters