March 31, 2015
'Stronger' Warnings About Suicide Risk With ADHD Drugs in Canada
the Psychiatry Advisor take:
Canadian health officials are mandating that "stronger, clearer warnings" about the risk of suicidal thoughts and behaviors be added to the prescribing information (PI) for medications commonly used to treat attention-deficit/hyperactivity disorder (ADHD).
The move by Health Canada comes amid reports in that country of suicide-related events in people taking the drugs. However, the agency was also quick to point out that there is little evidence to establish a link between suicidal thoughts and the drugs, and the the benefits of them still outweigh the risks.
"It is important to note that people with ADHD may already have a slightly increased risk of suicidal thoughts and behaviours," according to a Health Canada alert.
Strattera (atomoxetine) already had the stronger warning incorporated into its PI back in 2005. ADHD drugs in Canada that will get the updated warning include Adderall XR (mixed salts amphetamine extended-release), Concerta (methylphenidate extended release), Ritalin SR (methylphenidate extended release) and Vyvanse (lisdexamfetamine dimesylate).
In the United States, the ADHD stimulant medications do not have such strong warnings on their PI in regards to suicidal thoughts. However, it does say patients with comorbid bipolar disorder should disclose if they have a family history of suicide.
In regards to warnings related to psychiatric adverse events, US PIs for ADHD medications says that stimulants may cause treatment-emergent psychotic or manic symptoms in patients with no prior history.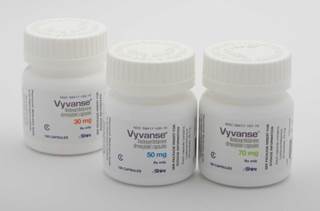 'Stronger' Warnings About Suicide Risk With ADHD Drugs in Canada
Prompted by reports of suicidal behavior in patients taking ADHD medications, Health Canada is issuing "stronger, clearer warnings" about the risks associated with the drugs.
The drugs are: Adderall XR, Concerta, Biphentin, Strattera, Intuniv XR, Dexedrine, Ritalin, Ritalin SR, and Vyvanse. They are prescribed to help manage attention deficit hyperactivity disorder, a term used to describe people with poor focus, impulsivity and hyperactivity.
Health Canada said that, overall, the benefits of these drugs in ADHD treatment continue to outweigh the risks.
Sign Up for Free e-newsletters