July 23, 2014
Nicotine Patches During Pregnancy Pose ADHD Risk
the Psychiatry Advisor take:
It's well known that smoking during pregnancy increase the risk of having a child with attention deficit hyperactivity disorder (ADHD), but now researchers have found that children of women who use nicotine patches to kick the habit during pregnancy may be at similar risk.
Nicotine itself my not cause ADHD, according to study researcher Carsten Obel, MD, PhD, of Aarhus University in Denmark. Rather, children of mothers who use nicotine replacement products during pregnancy may develop ADHD due to genetic or environmental factors.
Obel and colleagues analyzed data from more than 80,000 children from Danish databases born between 1996 and 2002. Mothers were asked while pregnant if they smoked, were using nicotine replacement products, or had quit smoking. Children were followed through 2011.
Although only 2% of the children, overall, were diagnosed with ADHD, children who had both parents that smoked were 83% more likely to develop the disorder, the researchers reported in Pediatrics. And mothers who used nicotine replacement products had children with a similar risk of developing ADHD as children of women who smoked during pregnancy.
If only one parent smoked, the ADHD risk in children was higher when it was the mother who smoked. Compared with children born to nonsmoking mothers and smoking fathers, those born to smoking mothers and nonsmoking fathers had a higher risk for ADHD (adjusted hazard ratio = 1.26; 95% confidence interval, 1.03 to 1.53).
"Our findings indicate that the association between prenatal maternal smoking and ADHD may overestimate a causal link, but nicotine exposure or related factors may still play a causal role," the researchers concluded.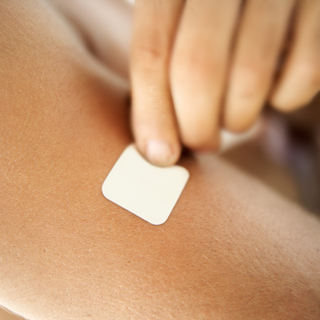 Nicotine Patches Just as Dangerous as Smoking During Pregnancy for ADHD Risk
Smoking during pregnancy has been linked to a higher chance of the child having attention-deficit/hyperactivity disorder (ADHD), and a new study suggests women who use nicotine replacement products may. For instance, it could be that women dependent on nicotine are more likely to have ADHD symptoms themselves. The children of women who use nicotine replacement products to quit smoking may be at risk of ADHD because of genes or their family environment,
Sign Up for Free e-newsletters
Check out what's trending