September 03, 2014
Movies, Video Games May Increase ADHD Risk
the Psychiatry Advisor take:
The proliferation of video games, television and other types of media aimed at children may contribute to the development of attention-deficit/hyperactivity disorder (ADHD) in adolescents, according to researchers.
Sanne Sanne W. Nikkelen, MSc of the University of Amsterdam, and colleagues, conducted a meta-analysis of 45 studies analyzing the relationship between media exposure and ADHD symptoms in adolescents. The team examined type of media, content, age and gender of children, as well as potential outcomes, including ADHD diagnosis, impulsivity, or hyperactivity.
There was a small, but significant, relationship between media use and ADHD-related behaviors (r+ =0.12), the researchers reported in Developmental Psychology. The relationship between media and ADHD symptoms was stronger in boys compared with girls.
However, violent media did not have a more significant impact on ADHD compared with overall media, the researchers found. And there was no real difference between television viewing or playing video games in terms of effects on attention span.
Despite the findings, the researchers said many question remain unanswered. For example, the evidence was not strong enough to support a causal relationship between media and ADHD. Also, none of the studies include in the meta-analysis included comparisons between older and younger adolescents in terms of ADHD symptom outcomes.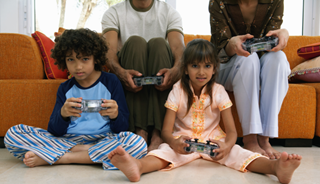 Movies, Video Games Geared to Kids May Increase ADHD
Can there be a link between the rising rate of ADHD diagnoses in children and adolescents and the proliferation in fast-paced media aimed at children?
Attention-deficit/hyperactivity disorder is characterized by symptoms such as attention problems, hyperactive behavior, and impulsivity in children, usually leading to disruptions at both home and school. While children in developed nations are routinely stimulated by television shows, movies, and video games, research studies investigating a potential link with ADHD symptoms fail to show a consistent relationship.

Sign Up for Free e-newsletters
Check out what's trending