November 12, 2014
Many Parents Mistake ADHD Symptoms for 'Normal' Adolescent Behavior
the Psychiatry Advisor take:
A new survey indicates that many mothers of teenage and young daughters who have been diagnosed with attention-deficit/hyperactivity disorder (ADHD) initially hesitated in seeking medical treatment for their child, chalking up their conduct to normal adolescent behavior.
Almost half of moms polled said they first thought that their their daughters' ADHD–like behavior was their way of dealing with adolescent stress, and 59% reported that they hesitated in seeking a clinician's help. Also, 60% of mothers said they wished the recognized the ADHD symptoms sooner and had their daughters treated earlier.
The survey findings indicate that many parents may misunderstand the condition and highlights the potential need for greater education about the disorder. The results also showed that nearly 30% of health care professionals and teachers believe children will eventually outgrow their ADHD symptoms.
"Symptoms of ADHD may not be as noticeable in girls, because girls are more likely than boys to display inattentiveness rather than the hyperactivity and impulsivity most people associate with the disorder," Patricia Quinn, MD, a pediatrician based in Washington, DC, said in a statement. "All too often their mothers and fathers chalk it up to age and stage in development."
The survey was conduced by Harris Interactive on behalf of Shire Pharmaceuticals, which manufactures many medications to treat ADHD.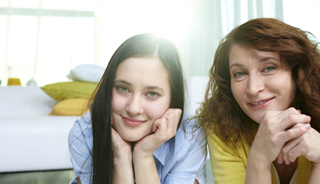 Many Parents Mistake ADHD Symptoms for 'Normal' Adolescent Behavior
According to a new survey released today, nearly 50% of mothers of tween girls who have been diagnosed with attention-deficit/hyperactivity disorder (ADHD) reported that they had first attributed their daughters' behavior to "normal" adolescent struggles, and 59% reported that they initially hesitated to seek help from a doctor for their daughter.
These findings are part of a nationally representative, multi-arm survey examining awareness, perceptions and attitudes about ADHD among mothers of tween girls ages eight to fourteen, as well as teachers and physicians. The survey, conducted online in July 2014, was designed by Edelman Berland and fielded by Harris Interactive, a Nielsen company, on behalf of Shire Pharmaceuticals.
Sign Up for Free e-newsletters