October 30, 2017
Micronutrients Improve Some Symptoms of ADHD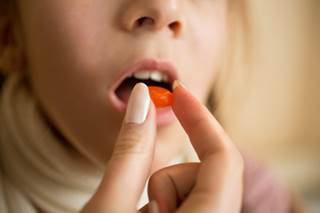 Participants who received micronutrients had significantly improved overall functioning according to clinician ratings.
According to the results of a study published in the Journal of Child Psychology and Psychiatry, broad-spectrum vitamin and mineral treatment improved overall function, emotional regulation, inattention, and aggression while reducing impairment in medication-free children with attention deficit/hyperactivity disorder (ADHD).
In this prospective controlled trial, children with confirmed ADHD who were not receiving medication for their disorder were randomly assigned to receive micronutrients (n=47; mean [SD] age 10.06 [1.56]; 74% boys) or placebo (n=46; mean age 9.43 [1.53]; 78% boys) for 10 weeks. ADHD symptoms were assessed with measures from parents, teachers, and clinicians.
In an intent-to-treat analysis, participants who received micronutrients had significantly improved overall functioning according to clinician ratings with the Clinical Global Impressions-Improvement-Overall scale (effect size [ES] 0.46; P =.03); 47% of participants receiving micronutrients were "much" to "very much" improved, compared with 28% receiving placebo.
No differences in overall ADHD symptoms were reported based on parent, teacher, or clinician ratings (ES ranges 0.03-0.17).
More participants receiving micronutrients had a clinically meaningful improvement in inattentive symptoms compared with placebo (32% vs 9%; odds ratio [OR] 4.9; P =.005) but not hyperactive-impulsive symptoms (OR 1.0; P =.9). Furthermore, clinician, parent, and teacher ratings revealed greater improvements in emotional regulation, aggression, and general functioning compared with placebo (ES 0.35-0.66).
Rates of adverse events were similar in both groups, and no serious adverse events were reported.
In an interview with Psychiatry Advisor, Julia Rucklidge, PhD, a clinical psychologist at the University of Canterbury in New Zealand and lead study investigator, concluded that "micronutrients are a viable option forward for some children with ADHD and can confer positive effects across a broad range of symptoms. The low rate of adverse effects and the benefits reported across multiple areas of functioning indicate micronutrients may be a favorable option for some children, particularly those with both ADHD and emotional dysregulation."
Reference
Rucklidge JJ, Eggleston MJF, Johnstone JM, Darling K, Frampton CM. Vitamin-mineral treatment improves aggression and emotional regulation in children with ADHD: a fully blinded, randomized, placebo-controlled trial [published online October 2, 2017]. J Child Psychol Psychiatry. doi:10.1111/jcpp.12817