April 20, 2015
Fidgety Behavior May Help Cognition in Children with ADHD
the Psychiatry Advisor take:
Although children with attention deficit/hyperactivity activity (ADHD) frequently exhibit fidgety behavior, those mannerisms may actually be helping them to recall information and complete complex cognitive tasks.
Mark Rapport, PhD, of the University of Central Florida in Orlando, and colleagues enrolled 52 boys between the ages 8 and 12 in a study. Twenty-nine had ADHD, while the remaining 23 showed normal development. The children were asked to perform tasks in order to measure working memory, which is in involved in the temporary storage and managing of information needed to carry out cognitive tasks, including learning and comprehension.
The participants viewed a series of jumbled numbers and a letter on a computer, and were then told to put the numbers in order, followed by the letter. A camera recorded the kids' movements.
When the children with ADHD moved the most, the majority of them performed better at the tasks, the researchers reported in the Journal of Abnormal Child Psychology. But normally developing children did worse the more they moved during the testing.
"The message isn't 'Let them run around the room,' but you need to be able to facilitate their movement so they can maintain the level of alertness necessary for cognitive activities," Rapport said in a statement.
The researchers also say that the study indicated that students could perform better academically if they're sitting on activity balls or exercise bikes during tasks.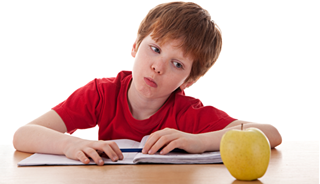 Fidgety Behavior May Help Cognition in Children with ADHD
For decades, frustrated parents and teachers have barked at fidgety children with attention deficit/hyperactivity disorder (ADHD) to "Sit still and concentrate!"
But new research shows that if you want ADHD kids to learn, you have to let them squirm. The foot-tapping, leg-swinging and chair-scooting movements of children with attention-deficit/hyperactivity disorder are actually vital to how they remember information and work out complex cognitive tasks, according to a study published in an early online release of the Journal of Abnormal Child Psychology.
The findings show the longtime prevailing methods for helping children with ADHD may be misguided.
Sign Up for Free e-newsletters
Check out what's trending