June 19, 2015
Widely Used Dementia Drug May Also Improve Some Functioning in ADHD
the Psychiatry Advisor take:
A widely used dementia drug may also help adults with attention-deficit/hyperactivity disorder (ADHD) that also have impairments in executive functioning when used as an adjunct to stimulant therapy, according to a small study.
When added to methylphenidate that was given to patients through an osmotic release oral system (OROS-MPH), memantine (Namenda) helped improve executive functioning, which includes mental skills such as the ability to manage time, pay attention, recall details, and accomplish tasks based on prior experience, according to a presentation at the recent 12th World Congress of Biological Psychiatry in Athens, Greece, Medscape Medical News reported.
Joseph Biederman, MD, chief of pediatric psychopharmacology and adult ADHD at Massachusetts General Hospital in Boston, and colleagues enrolled a total of 26 patients between the ages of 18 and 57 who had, at minimum, moderately severe ADHD and eeecutive function deficits.
All patients received OROS-MPH, and were then randomized to either memantine 10mg twice daily, or a placebo. They were then evaluated every week for six weeks, followed by biweekly examinations up to 12 weeks.
Patients who took memantine saw some improvement on the Behavior Rating Inventory of Executive Functions–Adult Inhibition (BRIEF-AF) and the Self-Monitor subscales compared to those on placebo.
"Most of the benefits that memantine produces in dementia are improvements in cognition, so we reasoned that if memantine can improve cognition in the context of dementia, it could improve cognition outside the context of dementia," Biederman told Medscape. "What we saw was a trend towards normalization on several measures of executive function, as reflected by changes on the BRIEF scale with memantine compared with placebo."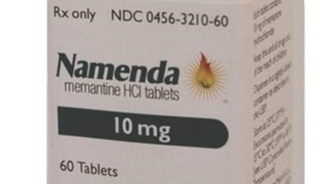 Namenda, a popular dementia drug, may also help improve executive functioning in ADHD patients.
A drug approved for the treatment of dementia appears to improve executive function in adults with attention-deficit/hyperactivity disorder (ADHD) when administered with standard stimulant therapy, preliminary research suggests.
Initial results from the small, randomized controlled trial indicate that adjunctive memantine (Namenda, Forest Laboratories, Inc) with osmotic release oral system-methylphenidate (OROS-MPH) was associated with improvement in ADHD patients with executive function deficits (EFDs).
According to investigators, EFDs produce a wide range of difficulties that affect scholastic achievement in particular as well as the ability to work, plan, organize, and manage time well.
Sign Up for Free e-newsletters