May 13, 2015
Dark Chocolate Shown to Increase Attentiveness
the Psychiatry Advisor take:
Having a sweet tooth for dark chocolate may make your dentist cringe, but it may actually stimulate the brain, improving attention.
Larry Stevens, PhD, a professor of psychological sciences at Northern Arizona University in Flagstaff, and colleagues conducted a study designed to evaluate whether eating chocolate would provide a rapid stimulant effect.
The team enrolled 122 participants between the ages of 18 and 25. They were either given a chocolate that was 60% cacao or one of five other kinds of chocolate. Electroencephalography (EEG) was used to measure the effect of the chocolate on attentional characteristics of the brain.
The brains of participants who consumed the 60% cacao chocolate were more alert and attentive after consumption compared with those who took other confections, the researchers reported in the journal NeuroRegulation. Their blood pressure also increased for a short time.
However, Stevens cautioned that eating a regular chocolate bar that is high in milk and sugar won't have the same effect as the confection needs to have a high percentage of cacao in order to have an attention benefit.
In participants who took one of the control chocolates that contained 60% cacao but also L-theanine, an amino acid found in green tea that acts as a relaxant, an immediate decline in blood pressure was seen.
"The potential here is for a heart healthy chocolate confection that contains a high level of cacao with L-theanine that is good for your heart, lowers blood pressure, and helps you pay attention," Stevens said in a statement.
The study was sponsored by the Hershey Company.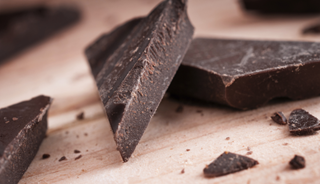 Dark Chocolate Shown to Increase Attentiveness
Move over coffee, and make way for dark chocolate. New research shows that eating a piece of dark chocolate activates the brain to increase attention levels.
The study is the first to observe the effects of chocolate on attentional characteristics of the brain and the first-ever study of chocolate consumption performed using electroencephalography (EEG). EEG studies take images of the brain while it is performing a cognitive task and measure the brain activity.
Chocolate is generally recognized as a vasodilator, meaning that it widens blood vessels and lowers blood pressure in the long run, but chocolate also offers some powerful stimulants.
Sign Up for Free e-newsletters
Check out what's trending