April 30, 2015
Children Born to Obese Moms Have Higher ADHD, Autism Risk
the Psychiatry Advisor take:
Children who are born to severely obese mothers are at an increased risk of having developmental difficulties, including attention-deficit/hyperactivity disorder (ADHD) and autism.
Laura Schieve, PhD, of the National Center on Birth Defects and Developmental Disabilities, which is part of the CDC, and colleagues examined data on more than 1,300 pairs of mother and child that was gathered between 2005 and 2012. Included in that information was the mothers' body mass index (BMI) prior to pregnancy and children's psychosocial issues when they were six years old.
Children of moms who had a BMI greater than 35 — which is considered severely obese — were three times as likely to having a diagnosis of autism spectrum disorder and four times as likely to be diagnosed with ADHD compared to peers whose mothers had a healthy BMI, the researchers reported in the journal Pediatrics.
Also, kids of obese mothers were twice as likely to have emotional symptoms and difficulties interacting with peers. Pregnancy weight gain, gestational diabetes, postpartum depression and birth weight were accounted for in the study, yet did not explain the link.
Schieve told Reuters that some small studies have indicated there may be a link between maternal obesity and inflammation, which could impact brain development in the fetus.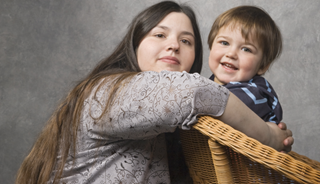 Children Born to Obese Moms Have Higher ADHD, Autism Risk
Six-year-olds whose mothers were severely obese before pregnancy are more likely to have developmental or emotional problems than kids of healthy-weight moms, according to a new study.
The researchers had found evidence of this link in two previous studies, said coauthor Laura Schieve, an epidemiologist with CDC's National Center on Birth Defects and Developmental Disabilities.
Schieve and her co-authors studied data on 1,311 mother-child pairs collected between 2005 and 2012, including the mothers' body mass index (BMI, a height-to-weight ratio) before pregnancy and their reports of the children's psychosocial difficulties at age six.
Sign Up for Free e-newsletters
Check out what's trending