August 28, 2014
Antidepressant Use During Pregnancy Increases ADHD Risk in Kids
the Psychiatry Advisor take:
Antidepressant exposure in the womb was associated with an increased risk of developing attention-deficit/hyperactivity disorder (ADHD) later on. However, the same study also found no relationship between antidepressant use by pregnant mothers and risk for autism spectrum disorder in their unborn child.
Caitlin C. Clements, a researcher at the Center for Experimental Drugs and Diagnostics at the Massachusetts General Hospital, in Boston, and colleagues found a startling 80% increased risk for ADHD among children exposed to antidepressants in the womb.
The researchers analyzed electronic health record (EHR) data from 1,377 children diagnosed with autism and 2,243 diagnosed with ADHD, as well as the records of their mothers.
A mother diagnosed with depression or another mental illness was 45% more likely to give birth to a child who later developed autism, whether or not she took an antidepressant (OR 1.10; 95% CI: 0.70–1.70), the researchers reported in Molecular Psychiatry. This finding suggests that the depression itself, rather than antidepressant use, most likely contributes to a child developing autism later on.
Conversely, antidepressant exposure during, but not prior to pregnancy, was associated with higher ADHD risk, even after adjustment for maternal depression (OR 1.81; 95% CI: 1.22–2.70).
"This [ADHD] risk, modest in absolute terms, may still be a result of residual confounding and must be balanced against the substantial consequences of untreated maternal depression," the researchers cautioned.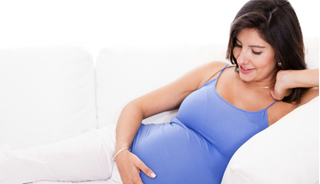 Antidepressant Exposure in the Womb Increased ADHD Risk in Kids
Scary studies linking antidepressant use during pregnancy with an increased autism risk in babies may have scared some pregnant women off of the medications, but a new Massachusetts General Hospital study provides some comforting news. The heightened autism risk associated with antidepressant use is likely due to the severity of the depression itself, rather than the medications.
But the study did find an alarming 80% increased risk in attention-deficit/hyperactivity disorder that was associated with a child's exposure to antidepressants in the womb.
Sign Up for Free e-newsletters