April 21, 2015
Adding Risperidone Can Help in Treating Aggressive ADHD
the Psychiatry Advisor take:
Adding the antipsychotic risperidone and parental training to attention-deficit/hyperactivity disorder (ADHD) medication treatment reduces disruptive behavior in children with severe aggression.
L. Eugene Arnold, MD, and Michael Aman, PhD, both of the Ohio State University Nisonger Center, enrolled 168 children between the ages of 6 and 12 who had been diagnosed with ADHD and disruptive behavior disorder and exhibited severe physical aggression.
The children were randomized into two groups. The first group included parent training in behavior management techniques, stimulant medication and placebo, while the second group was the same, except risperidone (Risperdal) was substituted for the placebo.
Ratings from teachers indicated that children in the risperidone-treated group showed more of a decline in anxiety symptoms compared to the children who received parental training and stimulant alone, the pair reported in the Journal of Child and Adolescent Psychopharmacology.
"Clinicians need to attend to both internal emotional and external behavioral symptoms in children presenting with aggressive symptoms," Arnold said in a statement. "Aggression accompanied by anxiety and social avoidance may partially reflect an anxiety-driven fight-or-flight reaction, which we speculate may respond to specific anxiety treatment."
The results add to earlier findings conducted at Ohio State University and other institutions that demonstrate the addition of an antipsychotic to standard ADHD stimulant treatment, along with parental training, can reduce aggressive and disruptive behavior.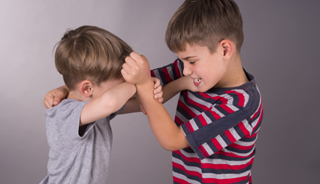 Adding Risperidone Can Help in Treating Aggressive ADHD
New research supports adding risperidone (brand name Risperdal) and parental training to traditional attention-deficit/hyperactivity disorder (ADHD) medications for kids with severe aggression.
Studies have shown that the regimen of psychotropic and stimulant medications, in addition to parental training, helps relieve childhood anxiety and reduces disruptive behavior.
The new study results confirm previous findings by researchers at Ohio State University Wexner Medical Center and three other institutions. They have showed that when children with ADHD and serious physical aggression were prescribed both a stimulant and an antipsychotic drug — along with teaching parents behavior management techniques — they had a reduction of aggressive and serious disruptive behavior.
Sign Up for Free e-newsletters
Check out what's trending