January 06, 2015
Women Should Sync Quitting Smoking With Menstrual Cycle
the Psychiatry Advisor take:
Ovulation can decrease the symptoms of nicotine withdrawal, so women who want to quit smoking should time it with their menstrual cycles, according to a new study published in Psychiatry Journal.
Statistics show that only one in 10 smokers who are trying to quit manage to stop smoking for an entire year. Since the menstrual cycle can affect nicotine cravings, women can take advantage of this in order to increase their chances of quitting successfully.
The study included 34 smokers: 19 women and 15 men. The researchers sought to determine if nicotine cravings were affected by gender and/or hormone fluctuation. They used functional MRI brain scans to see if any changes in the brain associated with nicotine withdrawal fluctuated in response to hormone level changes.
The researchers found that brain structures that intensify cravings were more active in menstruating women. Urges to smoke increased during the follicular phase that occurs after menstruation, most likely due to decreases in estrogen and progesterone. Conversely, nicotine withdrawal symptoms were reduced during ovulation as the levels of those hormones increased.
Physical withdrawal from nicotine typically lasts for a week, so the researchers suggest that women should quit two weeks before their next expected period.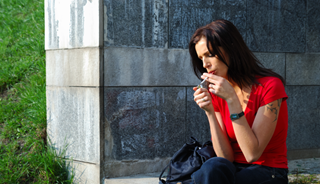 Women Should Sync Quitting Smoking With Menstrual Cycle
For millions of Americans, quitting smoking is high on the list of New Year's resolutions. Statistics indicate that fewer than one of every 10 former smokers manages to abstain from cigarettes for a full year, according to the University of Montreal.
According to a study published in Psychiatry Journal, women should pay attention to their menstrual cycle.
The study from the University of Montreal found that a woman's menstrual cycle has a significant effect on nicotine cravings. In addition to either increasing or decreasing cravings, menstrual cycles have an effect on how intensely women experience their physical withdrawal symptoms.