November 06, 2014
Treating Insomnia In Addiction Recovery May Cut Relapse Risk
the Psychiatry Advisor take:
Monitoring insomnia in patients in the early phase of addiction recovery is crucial as sleep problems can increase the risk of relapse.
Katherine A. Kaplan, PhD, of the Stanford University School of Medicine, and colleagues, reviewed current literature on the topic and say that the prevalence of insomnia in early recovery is five times higher than in the general population. Compounding the problem is that many people in recovery turn to alcohol to address their sleep problems, potentially leading to relapse.
And while some studies indicate using medications to treat insomnia during recover can help reduce the relapse rate, clinicians should be cautious, as a patient in recovery may be at increased risk for misuse, abuse, or addiction to sleep medications, the researchers reported in the Journal of Addiction Medicine.
Given that many clinicians have expressed hesitation in prescribing medication to treat insomnia in this population, evidence supports wider use of behavioral interventions, especially cognitive-behavior therapy, to address this. This might include having a patient maintain a sleep diary and engage in "sleep hygiene" practices to promote good sleep, such as limiting time in bed to sleeping and cognitive intervention.
The researchers conclude that additional research is needed to see if CBT for insomnia lowers the relapse risk.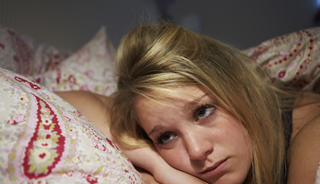 Treating Insomnia In Addiction Recovery May Cut Relapse Risk
Insomnia is a "prevalent and persistent" problem for patients in the early phases of recovery from the disease of addiction — and may lead to an increased risk of relapse, according to a report in the Journal of Addiction Medicine.
Insomnia may be linked with a higher risk of alcohol-related problems and relapse. The association may run in the other direction as well. Population studies report people with sleep disturbance are more likely to be at risk of developing addiction.
Compounding the problem, some patients addicted to alcohol use the substance in the evening in an effort to address sleep problems. Alcohol is a well-documented cause of sleep disruption with toxic effects on several neurobiological systems, and may contribute to lasting sleep problems even during abstinence.
Sign Up for Free e-newsletters