October 21, 2014
Smoking Impairs Neurocognitive Recovery in Alcohol Abuse
the Psychiatry Advisor take:
Nicotine hinders neurocognitive recovery in alcohol-dependent individuals during the first stages of alcohol abstinence, according to a report in Medical Daily.
Those who have suffered from alcohol dependency often sustain neurocognitive impairment, including difficulties with attention, concentration, problem solving, learning, and memory. These effects can last even after initial detoxification.
In a study published in Alcoholism: Clinical & Experimental Research, researchers investigated how nicotine use affected the neurocognitive rehabilitation in the first eight months of alcohol abstinence.
The researchers examined 133 alcohol-dependent individuals (ALCs). Of these participants, 30 had never smoked, 28 were former smokers, and 75 were active smokers. The control group consisted of 39 nonsmokers. Each participant had auditory-verbal and visuospatial learning and memory, processing speed, and working memory measured during the first week, fourth week, and eighth month of abstinence.
Results indicated wide discrepancies in the participants' abilities to recover in most cognitive functions. Active-smoking ALCs showed significantly worse cognitive recovery than never-smoking ALCs. Both former-smoking and active-smoking ALCs recovered less than never-smoking ALCs on processing speed measures.
At eight months, never-smoking ALCs reached full recovery of neurocognitive functions, whereas former- and active-smoking ALCs did not.
The results of this study support the movement to offer smoking-cessation programs to patients seeking treatment for alcohol and substance abuse disorders.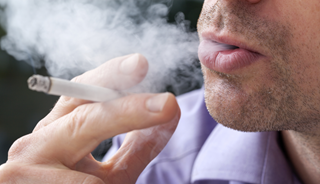 Study Suggests Tough Smoking Laws Might Lower Suicide Risk
For most who have visited a loved one in rehab, the phrase "don't forget to bring
cigarettes
" is likely one they're familiar with. Many people recovering from alcohol abuse say that smoking makes abstinence easier, but a recent study suggests that nicotine actually has the opposite effect on alcohol-dependent individuals and interferes with their neurocognitive recovery during the first stages of their alcohol cessation.
Sign Up for Free e-newsletters
Check out what's trending